Shalin Bhanot asks Bigg Boss if confession room is soundproof, then does this
Jan 20, 2023 04:22 PM IST
Bigg Boss 16: In the latest episode, Shalin Bhanot released his frustration and anger in front of Bigg Boss as there is nobody to talk to him in the house. He felt lonely and sad. He lost his calm and banged the door.
In the latest episode of Bigg Boss 16, Shalin Bhanot confessed his feelings in front of Bigg Boss in the confession room. He was frustrated and angry as he felt lonely inside the house. He lost his calm and banged down the door to get out of the house. He told Bigg Boss that there is nobody in the house who was talking to him. He also said he is losing his mind and wanted to get out of this mess. Many fans reacted to the promo video shared by ColorsTV. (Also read: Tina Datta says Shalin Bhanot didn't respect his wife, he raises questions on her character in huge Bigg Boss clash)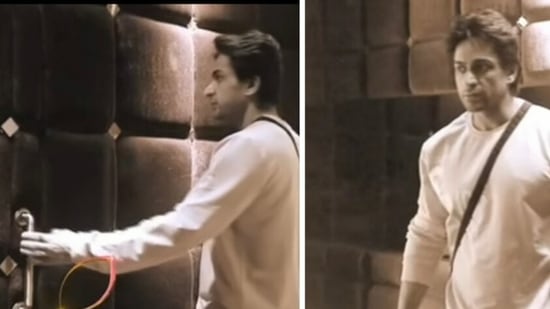 The channel shared the promo on their social media handles with the caption, "Confession room mein Shalin ne kho diya apna aapa (Shalin Bhanot loses his cool inside the confession room)."
The promo opened with Shalin asking Bigg Boss inside the confession room, "Is this a sound proof room?" Bigg Boss replied, "It is." He showed frustration and got up in anger from his sofa. He stood at one corner of the confession room and said, "Mere ko koi baat karne waala bhi nhi hai iss ghar mai (There is nobody with whom I can talk to in this house)." He further said, "Ye ghar mujhe kaat raha hai ( This house is making me lose my sanity and peace now). I am losing my shit right now." He roamed around for a while and said, "I can't do this, please get me off the grid." Furious Shalin knocked the door of the confession room with aim of existing the house.
Reacting to the clip, one person wrote, "The great actor award goes to Shalin Bhanot (clapping and laughing emojis)." Another person commented, "Don't be hard on yourself Shalin." Other person wrote, "Trying and copying Sidharth Shukla which is looking foolish and overacting." "Overacting ki dukaan (Shop of overacting)", added one. "Bigg Boss nikal do esko, mazaak bana ke rakha hai apna (Bigg Boss, get him out of this house, he has made a fool out of himself on the show)", wrote another.
In the previous episode, a hearted argument took place between Tina Datta and Shalin. . Shalin talked about Tina's character in detail and called her 'dogla and 'ladko se chipakne waali.' Tina lost her calm, and called him 'ganda aadmi' and said, 'I'm f***** going to slap you.' Tina also commented on Shalin's ex-wife Dalljiet Kaur.