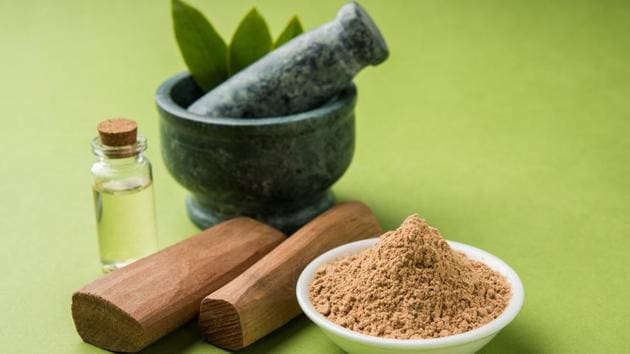 5 reasons you should start incorporating sandalwood in your beauty regime right now
Sandalwood is great for the skin and hair. Be it in massage oils or in soaps, it does wonders. Here are 5 benefits of sandalwood.
UPDATED ON AUG 05, 2017 12:14 PM IST
Taking care of your hair and skin while travelling or during the monsoon can be problematic. One wonder ingredient might change that. The oil derived from sandalwood (chandan) trees has a number of benefits. From opening clogged pores, to being a tan removing agent, the ingredient is widely used in the production of perfumes, powders, facial creams and masks. Amit Sarda, Managing Director, Soulflower and beauty experts at Biotique, have listed the benefits of sandalwood:
1) Sandalwood naturally contains aromatherapy effects and the extracted oil has anti-bacterial properties. The oil benefits skin as well as hair.
2) Sandalwood as an ingredient in soap helps in exfoliating dirt-impurities and clogged pores. It brightens complexion, lightens fine lines and rejuvenates skin cells for a soft and glowing skin. Sandalwood's distinctive soft, smooth and creamy scent, gives the soap a similar texture and which makes the skin smooth, soft and supple.
3) Sandalwood in massage oils works great for easing stress. It instantly energises and soothes the body and mind, and works as a great moisturiser. It provides antibacterial protection to the skin and helps it become shiny, hydrated, blemish-free and beautiful. A few drops of this oil into warm bath tub water can be instantly refreshing. Mixing it with your favourite bath salts to scrub the skin will make a great difference, making it look and feel healthier.
4) Sandalwood protects the hair from damage and hydrates it from within. When used as a shampoo bar, it should be lathered thoroughly onto hair and scalp with finger tips on dampened hair. It should be used twice or thrice a week to make the hair lustrous and bring back the life into them.
5) Sandalwood also has anti-tanning properties which help your skin look fresh. Bio Sandalwood 50+ SPF sunscreen lotion can protect the skin against probable sunburns and provide a significant natural defence against UV radiation.
Follow @htlifeandstyle for more
Close