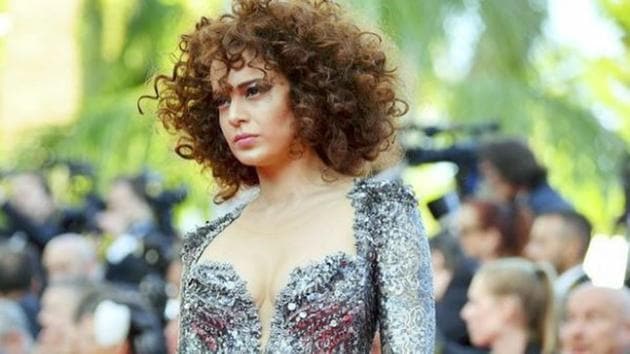 Did Kangana Ranaut wear the sexiest, boldest dresses at Cannes? You decide
Kangana Ranaut's showstopping looks from Cannes 2018 prove the Queen actor wasn't afraid of telling everyone she's ready to take on world fashion. What made her a winner? She embraced designs many other actors would have otherwise avoided.
UPDATED ON MAY 13, 2018 10:29 AM IST
The 2018 Cannes Film Festival kicked off in the South of France on Tuesday, and we've already seen a handful of fresh, summer-ready looks from celebrity attendees, including actor Deepika Padukone. When it comes to red carpet glamour, the gala brought out the best of the best, but some stars ditched the pretty-princess route for a path that's... steamier. Namely, actor Kangana Ranaut.
The Queen actor made her Cannes debut on Thursday. Despite being a relative newcomer to the red carpet scene at the international event, which sees some of the world's biggest names touch down in the French Riviera every year, Kangana embraced the type of designs her contemporaries may avoid - tackling bright colours and trickier silhouettes with aplomb.
Much like Deepika, Kangana made a huge mark at Cannes 2018 and set bold new trends with her high-wattage looks. From the red carpets of Cannes to its streets, Kangana's ensembles were always on point and distinctive.
While Kangana's red carpet style erred on the sultry side — body-hugging silhouettes, sheer fabrics, and plenty of emphasis on plunging neckline (more on her eye-catching jumpsuit on Friday in a bit) — her quirky approach to off-duty streetwear — track suits with sneakers, retro-inspired boyish separates paired with a bra, a gorgeously twinkling black Sabyasachi Mukherjee saree — were noteworthy, to say the least.
Take a look at Kangana's showstopping looks from Cannes 2018 that prove the actor wasn't afraid to take the plunge, (literally).
1. For her very first Cannes Film Festival appearance, Kangana wore a cocktail-ready out-and-out sparkly black saree from designer Sabyasachi Mukherjee. Channelling a glamorous Audrey Hepburn from Breakfast at Tiffany's, Kangana paired her sumptuous saree that was embellished with hand-cut sequins with. She accessorized with a matching handbag, a sparkling choker necklace set in diamonds, emeralds and pearls, a dramatic bouffant, creamy pink lips, super-long eyelashes and bold black cat eyes.
2. For her debut Cannes red carpet look Kangana showed off her sculpted arms and back in a see-through Zuhair Murad gown. Never one to shy away from skin, Kangana showed skin not just with her bare back but with the sheer crystal-embellished dress itself.
3. Following her stunning red carpet appearance, Kangana continued to rev up her sexy style. She then wore a skintight (very slick) low-cut latex dress with a high front slit from Nanushka. She paired the jaw-dropping red button-up number with trendy sunglasses from Poppy Lissiman.
4. With just a peek of skin here and a peek there, Kangana's a natural at being sexy without revealing too much. Thanks to strategic styling tricks, Kangana is not overexposed in her head-to-toe Trussardi look, even though she's rocking a bra. She's covering up with a chic menswear-inspired jacket and that's why this look works. This might be her boldest street style look yet.
5. Before hitting the red carpet on Friday, Kangana wore a blue short-sleeved Elisabetta Franchi mini dress. With its cute embellishments, it was a movable, easy, and an eye-catching statement piece all on its own. Though Kangana showed off the perfect accessories to go with it: Dior sunglassed and a lemon yellow mini purse from Tod's.
6. Kangana was definitely not shy when it comes to showing off some skin. Need another example? The actor surprised us with a dramatic outfit that left little to the imagination, when she hit the Cannes red carpet for a second time on Friday. Kangana wore a revealing beaded jumpsuit from Nedret Taciroglu and was clearly feeling herself while posing for photos on the red carpet. She finished off her shimmery look by switching up her usual neutral and metallic eye shadows with a heavy smoky eye. Leave it to the Queen to pull this off! To give her look an even more interesting spin, Kangana played up her natural curls in the best way possible.
7. Kangana's final Cannes look was a blue and black sequin dress with asymmetric sleeve from Halpern. The luxe-looking dress with a chest cutout felt sophisticated but sexy. With the way Kangana styled it — complete with Christian Louboutin pumps and a flirty high ponytail — we have every reason to re-create this look for our next fancy night out. And you?
Follow @htlifeandstyle for more
Close