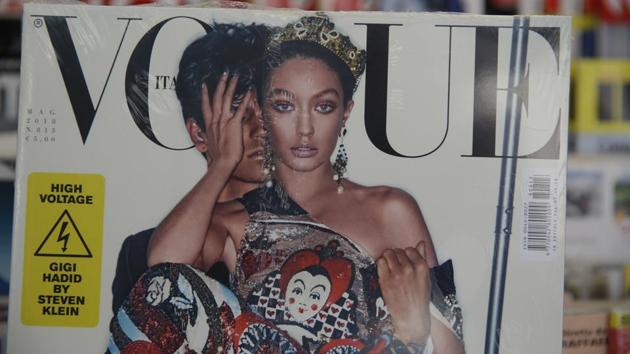 Model Gigi Hadid apologises for Vogue cover after 'blackface' controversy
Gigi Hadid and Vogue Italia have separately apologised for the May cover of Vogue Italia, which shows the model with a darker skin tone and hair colour.
UPDATED ON MAY 05, 2018 11:22 AM IST
Model Gigi Hadid has offered an apology after the backlash she received for a heavily-bronzed magazine cover. The 23-year-old model recently appeared on the new Vogue Italia cover which appeared to show her with darkened skin or "blackface", the makeup used by a non-black performer playing a black role. The cover -- shot by Steven Klein -- was unveiled on social media and was met with instant backlash.
Hadid posted a paparazzi picture of herself on her official Instagram and Twitter accounts, claiming that her control of the shoot was "non-existent in terms of creative direction" and ended completely when she "left set".
"This is a photo of me returning home from shooting my Italian Vogue cover on April 3rd... you can see the level I had been bronzed to on set that day. Please understand that my control of a shoot 1. is non existent in terms of creative direction 2. ends completely when I leave set, and anything done to a photo in post is out of my control fully.
Hadid said that, although she understood "what Vogue Italia's intentions were", the project was "not executed correctly, and the concerns that have been brought up are valid". "Please know that things would have been different if my control of the situation was different. Regardless, I want to apologize because my intention is never to diminish those concerns or take opportunities away from anyone else, and I hope this can be an example to other magazines and teams in the future," Hadid said.
"There are real issues regarding representation in fashion. It's our responsibility to acknowledge those issues and communicate through them to work towards a more diverse industry," she added.
Follow @htlifeandstyle for more
Close