FIFA U-17 World Cup: India goalkeeper Dheeraj Singh makes an impact
Oct 11, 2017 07:37 PM IST
India goalkeeper Dheeraj Singh has shown his proficiency despite the hosts losing to USA and Colombia in their first two Group A games at the FIFA U-17 World Cup.
India goalkeeper Dheeraj Singh Moirangthem came into the FIFA U-17 World Cup under a lot of pressure. During their exposure trip to Mexico, the Indian football team conceded nine goals in three matches and Dheeraj was under more scrutiny than anyone else in the team.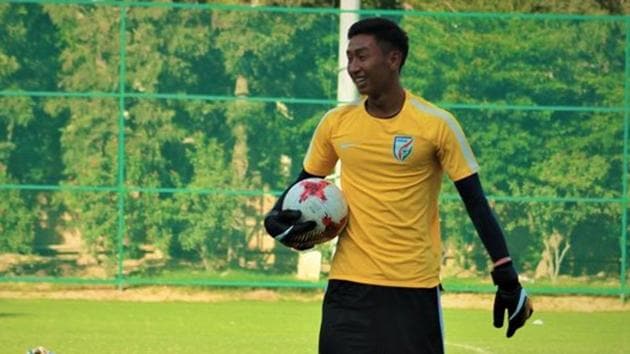 But the lanky custodian from Manipur has produced two stellar performances at the World Cup and his fighting spirit against Colombia on Monday earned him the admiration of most football fans in the country.
(Read | FIFA U-17 World Cup: Germany team in love with Indian food, culture and music)
The Latin American heavyweights tested Dheeraj with long rangers, but the youngster was up to the task. He pulled off a number of great saves. Although he was beaten by Juan Penaloza twice, there was hardly anything he could have done about those finishes.
Scouts monitoring Dheeraj
As a result, he has been unarguably India's best player in the tournament and it came as no surprise when reports emerged that two German clubs - one of them possibly Borussia Monchengladbach - and a scout from Major League Soccer (MLS) are keeping a close watch on him.
(Read | FIFA U-17 World Cup: India deserved victory vs Colombia, says Mexico's Gutierrez)
The man partially responsible for his growth in the last 2-3 months was Indian football team coach Luis Norton De Matos' old FC Benfica acquaintance Paulo Grilo. The former CSK Sofia and Philadelphia Union goalkeeping coach was appointed by the All Indian Football Federation (AIFF) after the team's Mexico tour and his inclusion in the backroom staff soon started to bear fruit.
"During our Mexico tour, we conceded nine goals in three matches, seven of them were from set pieces. This was an eye opener for all of us and it helped Dheeraj to understand the areas he needed improvement.
(Read | Jeakson Singh says it was a 'great feeling' to score for India in FIFA U-17 World Cup)
"It was very important to have a top goalkeeper-coach and so we brought one for the last month of our preparation," Matos told the media.
Focus on mental training
Grilo worked tirelessly with the three goalkeepers in the squad and the results were evident from the improved showing by the custodians during the final camps in Bangalore and Goa. He paid special attention to the mental preparation of the youngsters. According to Matos, it was his techniques that helped Dheeraj become a better footballer.
"His work has been incredible. The work he achieved with the three goalkeepers has been exceptional. To control the space of the ball, and to be honest this is not my area of expertise. Today nutrition, recovery, the mental aspect, prevention of injury and more, every area is different and we need professionals for this.
"We are lucky to have Paulo (Grilo). He is a fantastic goalkeeper coach. Of course, the quality of the player is also important, but the position-specific training has helped a lot."
India face Ghana in the final Group A game in New Delhi on Thursday.