Milind Soman opens up on mid-life crisis, eating insects and running barefoot
Sep 24, 2018 05:06 PM IST
Milind Soman spoke to us while he was in Delhi for the Pinkathon, which saw 10,000 women taking part, including 102-year-old Mann Kaur, who earlier this month won a gold medal at the World Masters Athletics Championships in Spain.
It's 9 am on Sunday and the running stage of the sixth edition of Bajaj Electricals Pinkathon Delhi 2018 in Delhi has just gotten over but Jawahar Lal Nehru Stadium, where the runners finish their marathon and receive their prizes resembles a grand celebration of sorts. There are over 10,000 women in pink, from youngsters to those in their late 70s, including a team of visually impaired girls, hearing impaired girls, cancer survivors and mothers with their babies.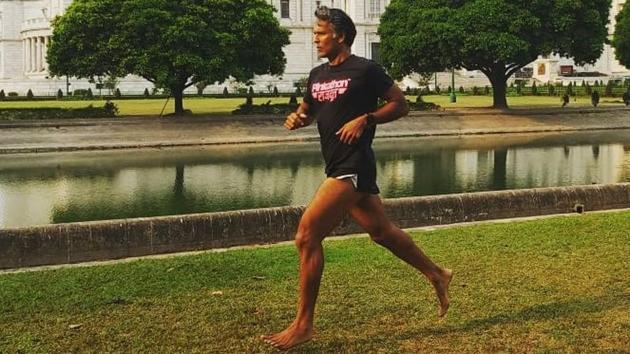 And then of course, there is 102-year-old Mann Kaur, who earlier this month won a gold medal at the World Masters Athletics Championships in Malaga, Spain, sitting inside the VIP enclosure with her 80-year old son Guru Dev. Outside on the stage where prizes are being distributed, a cheerful choreographer dances to pulsating music on stage, and the crowd comprising the runners are more than happy to follow his moves.
The man behind this whole movement, Milind Soman spoke to us about Pinkathon, why he prefers barefoot running, eating insects and more. And as soon as we are done with the interview, Soman is once again swarmed by endless array of women of all ages wanting to take selfies with him.
When you were 10 years old a palm reader told your mother that you would always be surrounded by women. Is Pinkathon a manifestation of that?
It's possible. What can I say, I didn't know how this happened, it was just an idea but it took off. I think it resonates with women everywhere not only in the metros but also in other smaller cities. In fact now we are doing the Pinkathon also in other countries. We shall be holding Pinkathon Day on October 21st this year in 60 cities all over India and in six countries across the world.
Why is it that you run barefoot?
I find it gives me a better posture and makes a more efficient runner, so I prefer it.
Do you still eat insects for protein?
That was just once, but I'd like to experiment a little bit more with insects.
Is it true that Milind Soman really doesn't know what a mid life crisis is?
No I do (he chuckles). I do very well in fact I may not have felt it as strongly as most people but I know that once you reach a certain age you begin to feel the weight of mortality. So when you're 20, 25 or 28 you don't feel it. You think that life is eternal and nothing is ever going to happen to you. But when you cross that age you can feel nature taking its course, and you want to fight that. You want to keep the degeneration of the mind and body as far as possible from yourself. So even if you don't articulate it like this, you feel it at the back of your mind. You feel your mortality creeping up on you.
Today I feel fitter than I was at 25, because I've been working so hard for the last 40 years.
Looking at the hordes of women all around, it seems that Milind Soman's vision of having fitter womenfolk and raising awareness on breast cancer is definitely reaching far and wide.
Follow more stories on Facebook and Twitter: @htlifeandstyle