Bend it like Panwars: Uttarakhand brother-sister duo shine for FC Pune City
Updated on Feb 05, 2018 06:02 PM IST
Sahil and Raksha Panwar, a brother-sister footballer duo from Dehradun are living the dream in the ongoing Indian Super League tournament, with both plying their trade for FC Pune City.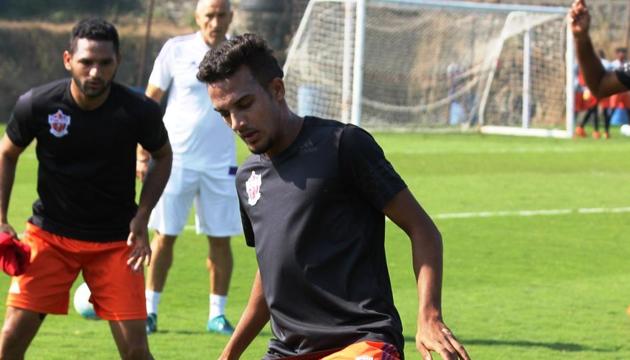 He's playing for a professional football club; She's proudly donned the 'India jersey' representing her state and country in international tournaments several times. Meet Sahil and Raksha Panwar, a brother-sister footballer duo from the Uttarakhand capital who are living the dream in sports.
Sahil Panwar is currently plying his trade with FC Pune City in the ongoing Indian Super League. The 18-year-old defender made his debut for the football club on January 13, prior to which he was a part of the FC Pune City Academy (the club's junior team).
"I'd never thought I'd become a part of the senior team so soon…it's been like a dream come true for me," says the Dehradun lad who's looking forward to "playing my own game" in the upcoming matches at the league. Sahil is currently pursuing Class 12 through open schooling.
His elder sister Raksha, on the other hand, has represented India in Under 13, 14, 16 and 19 football tournaments, with the Indian team clinching the Asian Football Confederation Championship 2009 under her captainship in Sri Lanka. She was also a part of the FC Pune City Women's Team in 2017, though she couldn't play in the Indian Women's League due to an injury. The Delhi University graduate is currently preparing to be a part of the senior national women's team and also to be a coach.
"When I'd started out, I used to practice with boys much senior my age as there were hardly any girls to play with," recalls Raksha who underwent sports injury rehabilitation for making a comeback on the field.
Though they rarely get to spend time together due to their individual commitments, the siblings share a "close bond" and are a constant source of inspiration for each other. "I always fall back on her for guidance, she's my pillar of strength," says Sahil, who is excited about "the gradual change in public attitude" towards non-cricketing sports in India.
Raksha recalls an old incident when a very young Sahil was low on confidence for not having been able to make any significant headway. "We had begun playing football almost at the same time, so when I started participating in India camps, he was very disappointed (as to why things were not progressing equally for him). I still remember how I sat him down one day and told him 'abhi sirf mehnat kar, results ka mat soch' (just work hard right now, don't worry about the outcome), and by god's grace, there has been no looking back for him since then," says the feisty player.
The Panwar siblings are inspired and backed by their footballer father Deepak, who was also their first coach. "Despite not getting support (for pursuing sports) from his own parents, he shielded us from all societal pressures and never let our humble financial background come in the way of our sporting dream," says the duo, who feel Uttarakhand is yet to provide adequate support to its budding sportspersons.