FIFA World Cup 2018: Croatia battle fatigue ahead of England clash
Gareth Southgate's England is yet to meet a team with the strength of Croatia in the FIFA World Cup 2018, but the latter are coming to the semi-finals on the back of two gruelling encounters.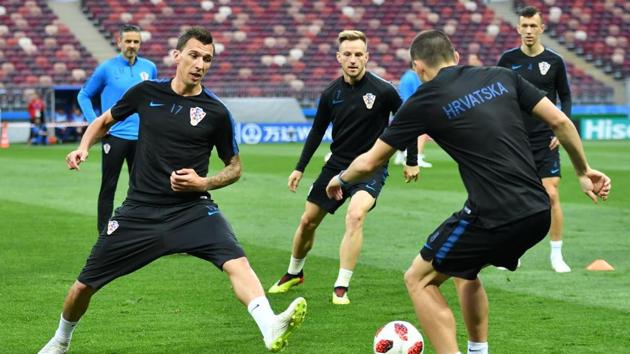 Updated on Jul 11, 2018 09:49 AM IST
Hindustan Times, Saint Petersburg |
Bhargab Sarmah
England's recollections of games against Croatia aren't their fondest. They have beaten Croatia 5-1 and 4-1 in their last two meetings but it hasn't relieved the pain of a 3-2 defeat at Wembley back in 2007.
That loss cost England the chance to qualify for the 2008 European Championship. None of the 18 who featured in that game is part of this World Cup but Croatia still have three who played that night – Vedran Corluka, Luka Modric and Ivan Rakitic.
When the two sides take the field at the Luzhniki Stadium here on Wednesday night, Croatia will know they have the chance to inflict greater pain on England who are aiming to end a 52-year wait for another World Cup. Should that happen, Croatia will do one better than the team of 1998 which made the semi-finals on its first attempt.
England though are quietly confident. Having exceeded expectations by reaching the last-four stage, a win on Wednesday will see them reach their first final since 1966.
READ | FIFA World Cup 2018: Croatia vs England more than battle of brain and brawn
But Gareth Southgate's side is yet to meet a team with the strength of Croatia in this campaign; their group game against Belgium turned into a dud as both sides rested first teams.
Southgate's biggest concern is dealing with the riches Croatia have in the midfield. Modric has pulled the strings from the centre of the park for Zlatko Dalic's team and stopping him will be the key to England's hopes.
There is unlikely to be any change to the team that beat Sweden 2-0 in the quarter-final but Dele Alli, Jesse Lingard and Raheem Sterling could be needed to perform more defensive duties and help Jordan Henderson in the midfield if England are to counter the threat of Modric and Rakitic.
With Harry Kane likely to attract significant interest from the Croatia defence, Sterling's role is likely to be crucial as the Manchester City star will be tasked with dual duties of dropping down as well as supporting Kane up front.
READ | #WaistcoatWednesday: England fans suit up ahead of World Cup 2018 semis
Croatia, on the other hand, are at a distinct disadvantage having been involved in two gruelling encounters, the last of them on Saturday.
After a penalty shootout win against Denmark in the Round of 16, Croatia were taken to the tie-breakers again by Russia in the quarter-finals.
"I think, especially physically it's demanding on the body, to go 120 minutes and then obviously you have got to fly back as well to your base. They have done that twice now. It could play a major advantage (for us)," said England's Ashley Young at a media interaction at the team's base in Repino on Monday.
To ease the pressure on Modric, Dalic may field Marcelo Brozovic in central midfield and drop one of his attacking players, possibly Andrej Kramaric.
READ | Cristiano Ronaldo signs for Serie A champions Juventus from Real Madrid
The rest of the team is unlikely to change. The major area of concern for Dalic will be defending set-pieces. England have been lethal from dead-ball situations and have a more prominent aerial presence than the Croats.
It will be interesting to see how the crowd reacts to a game involving England, a country with which Russia is locked in a diplomatic dispute, and Croatia whose centre-back Domagoj Vida drew the ire of Russian supporters when he posted a video in praise of Ukraine after beating Russia.
Close Story