FIFA World Cup 2018: Relieved Lionel Messi grateful at surviving Nigeria ordeal
Marcos Rojo was the unlikely hero for Argentina, with Lionel Messi insisting he was confident his team would qualify for the pre-quarterfinals of FIFA World Cup 2018.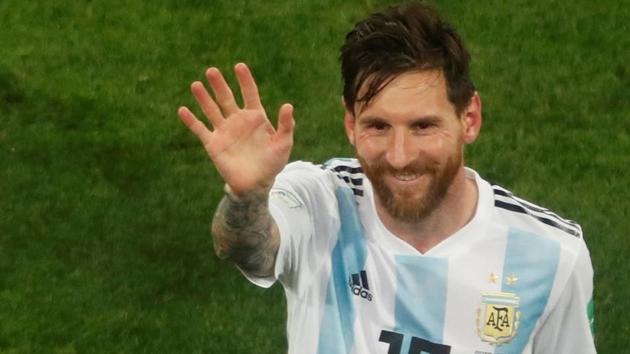 Updated on Jun 27, 2018 03:32 PM IST
A relieved Lionel Messi said on Tuesday he had not expected to suffer so much against Nigeria, but that he and his Argentina team mates were always confident about winning the crucial FIFA World Cup clash that secured them a place in the last 16.
The Barcelona forward opened the scoring with a fine goal in the dramatic 2-1 win over Nigeria that sent the South Americans through to the knockout stages behind Croatia in Group D. (ARG vs NGR HIGHLIGHTS)
"We already knew we were going to win, we were confident that God would help us, that all would turn out well. But we did not expect the complication of the draw, of suffering so much," Messi told Argentine media.
After the Africans equalised through a Victor Moses penalty in the 51st minute, captain Messi said his side got "nervous."
ALSO READ: Diego Maradona shows middle finger to fans, Twitter says he is 'possessed'
"We had the impression that time was going by faster. That's the reason we started attacking and pressing more and that's how we managed to score to go through," he said in a news conference later on Tuesday.
Deliverance came at the 86th minute thanks to a strike from defender Marcos Rojo that secured the win.
"We made many changes, trying to create opportunities but the important thing today was the players were really brave. That courage made this result possible," said Argentina coach Jorge Sampaoli.
ALSO READ: Ivan Perisic strikes late as Croatia top Group D with win over Iceland
Argentina will need to be more consistent when facing France in the last 16, he added.
"The match against France is going to be tough as well and we need to be very coherent to win," Sampaoli said.
Messi echoed his coach's comments, saying that the squad had watched all of France's games and that they had to brace themselves for the skilled Europeans.
ALSO READ: 'Argentina must make Lionel Messi feel secure'
"I also have team mates who I know very well both in the front and the back lines. I know who they are and I know what we will have to do," said Messi.
Asked by Argentine media how he felt personally, Messi, who turned 31 this week, replied: "I'm good. I'm very happy. It would have been very painful to have been eliminated in the first round."
Sampaoli defended his talisman from perennial criticism that he plays with more effort for his club Barcelona than for his home country.
"Messi every time he plays he shows that he is a fantastic player, that he is above any body else. But he needs the support from his team mates. Only then will he play at his best," said Sampaoli.
Close Story
Personalise your news feed. Follow trending topics