Jose Mourinho laments Zlatan Ibrahimovic's 'sad' exit from Europe
Agence France-Presse, Manchester |
Agence France-Presse
Mar 30, 2018 07:43 PM IST
Jose Mourinho expressed sadness at having to let Zlatan Ibrahimovic leave Manchester United for LA Galaxy
Jose Mourinho has paid tribute to Zlatan Ibrahimovic by declaring his departure from Manchester United a "sad" moment for European football.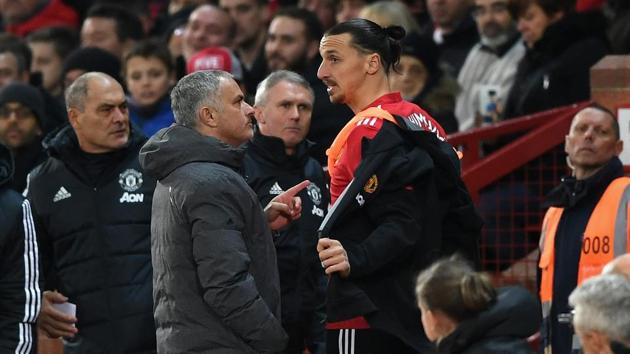 The former Paris Saint-Germain striker secured a move to Major League Soccer side LA Galaxy last week after United agreed to cancel his contract three months early.
Ibrahimovic scored 28 goals in his first season at Old Trafford, but struggled to recapture his best form after suffering cruciate knee ligament damage during a Europa League quarter-final against Anderlecht last April.
The 36-year-old Swede managed only one goal for United after making his comeback in November, with his final appearance for the club against Burnley on Boxing Day.
"For me, it's always sad when the big players go in the direction of the end," United manager Mourinho told a news conference on Friday.
READ | Jordan Pickford can be England's FIFA World Cup keeper: Sam Allardyce
"I remember for example Luis Figo, after his last match, with me and with Inter Milan.
"I always remember it as one of my saddest moments because I always feel very, very sorry when the big ones finish or go to the last period of their careers.
"Zlatan is a huge big player that European football is losing now and forever because he will not be back to this level."
However, Mourinho added: "This period with Galaxy, these couple of years, will be very good for him and American football."
Shaw option
Meanwhile Mourinho indicated Luke Shaw could win a reprieve despite his recent fierce criticism of the defender.
Left-back Ashley Young has been struggling with a knee injury, suffered while on England duty, as United prepare to face Swansea in the Premier League on Saturday, with Shaw his likely deputy.
Shaw played in United's most recent match, a 2-0 FA Cup quarter-final victory over Brighton on March 17, but was substituted at half-time and then pilloried by Mourinho afterwards.
The Portuguese manager accused Shaw of not defending well enough, and giving Brighton too much room down the right flank.
Shaw is known to be angry with the way he has been treated, but Mourinho insisted the full-back had not been frozen out.
READ | Russia's FIFA World Cup 2018 squad told to avoid 'exotic tea', foreign medicines
"If he's available, Luke Shaw is always an option," Mourinho said. "Ashley Young was available to play against Brighton and I started with Luke Shaw, so that's not a problem."
Reserve goalkeeper Sergio Romero will miss the Swansea game after suffering a knee injury during Argentina's 6-1 defeat by Spain in Madrid on Tuesday.
Romero has been United's FA Cup 'keeper this season, but is a major doubt for the semi-final against Tottenham Hotspur at Wembley on April 21 after injuring his right knee in a collision with Diego Costa.
"Romero is injured, and I think he will be for a few weeks," Mourinho, whose second-placed side are currently a huge 16 points adrift of Premier League leaders Manchester City, said. "I think in the end he was lucky because it was a strong contusion (bruise) and will take a little bit of time to recover."
READ | Barcelona head to Sevilla with unbeaten record on the line
Mourinho and Swansea counterpart Carlos Carvalhal are the only two Portuguese managers in the Premier League, and have a long-standing friendship.
Carvalhal, who has taken Swansea three points clear of the relegation zone since arriving at the Welsh club in December after leaving second-tier Sheffield Wednesday, described Mourinho as the "king of coaches", before the two men enjoyed a cordial phone conversation on Thursday.
"He said I opened the door for more Portuguese coaches to leave which is something I know is true," Mourinho told reporters.
"I speak with him a couple of times every week. Last night I spoke with him a little and thanked him for his nice words. It is one thing to think something, but another to say it."