Mohun Bagan held by 10-man Indian Arrows in I-League clash
Dec 29, 2017 07:17 PM IST
Mohun Bagan were held for a third consecutive game in the I-League as they were held to a 1-1 draw by Indian Arrows, who were down to 10 men after Amarjit Kiyam was sent off.
The homecoming was historic but since Mohun Bagan's football bordered on the farcical, they might have left themselves with a mountain to climb to regain the I-League.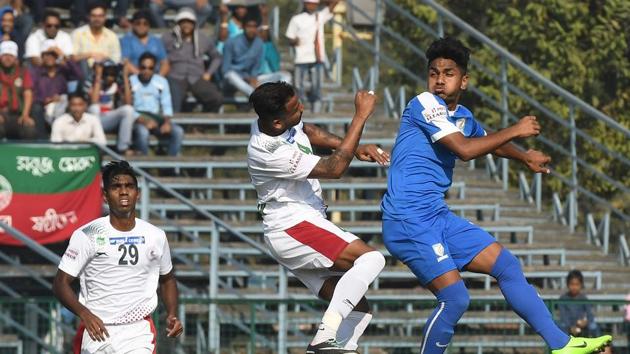 Against Indian Arrows, who played with 10 men after Amarjit Kiyam was booked twice in 15 minutes, Mohun Bagan, having scored first through Dipanda Dicka's penalty in the 27th minute, split points for the third successive game and fourth overall.
Indian Arrows equalised on Friday through Rahul KP and a near full-house at Mohun Bagan gave them a standing ovation at full time. "Never have I seen such kind of support for my boys," said Indian Arrows' coach Luis Norton de Matos.
A section of the crowd also chorused for Mohun Bagan coach Sanjoy Sen's resignation. After 10 points from six games, Sen's future looks tense. "I can't blame them. This was an embarrassing performance," said Sen.
It took Indian Arrows six minutes to equalise after trailing from what looked like a dodgy spot-kick decision. Referee Tejas Nagvenkar, who has had questionable decisions in the Indian Super League too, penalised Arrows' right-back Asish Rai after the slightest of contacts with Mohun Bagan's wide left Nikhil Kadam. "About the penalty, I have some doubts," said de Matos.
Indian Arrows' goal came on the break and it showed that Kinshuk Debnath didn't have the legs to keep up with Rahim Ali. Arrows played a sequence of short passes before Sanjeev Stalin found Ali in space on the left. Ali scootered past Debnath and square-passed for Rahul KP who slotted home from a defensive sandwich that had Kingsley Eze and Ricky Lallawmawma.
With Kiyam and Jeakson Singh manning the engine room, the young ones pressed hard and neutralised Mohun Bagan's midfield. They conceded free-kicks in dangerous areas but so poor were Mohun Bagan's execution of set-pieces that barring a fifth minute effort from Kadam that Sheikh Faiaz headed but Rai cleared, Indian Arrows' bid for a draw wasn't really under threat.
In the 20th minute, Dicka found Ansumana Kromah but the midfielder couldn't keep his shot on target with only goalie Dheeraj Singh to beat. That Kromah looked surprised on beating the off-side trap after getting to the end of a Faiaz's chip told the story of Mohun Bagan in the first half. They were just as insipid in the second barring Manandeep Singh going close once.
It will be small consolation for Sen that Indian Arrows showed the kind of cohesion he predicted they would. Barring Rai, everyone de Matos started had under-17 World Cup experience and they looked the 128-year-old team in the eye.
Kiyam's bookings were unnecessary --- before that we were thinking we could win, said the Arrows' coach --- but since hopeful goalmouth lobs were all that Mohun Bagan managed on their last day at work in 2017, it didn't look like the visitors were a man, err boy, short. "I felt Mohun Bagan looked nervous," said de Matos whose team now have seven points from six games.