Afghan earthquake rattles city of high-rises, no damage reported
Updated on Oct 27, 2015 04:03 PM IST
People rushed out of their offices and homes after tremors of a major earthquake that hit Afghanistan were felt in Gurgaon on Monday afternoon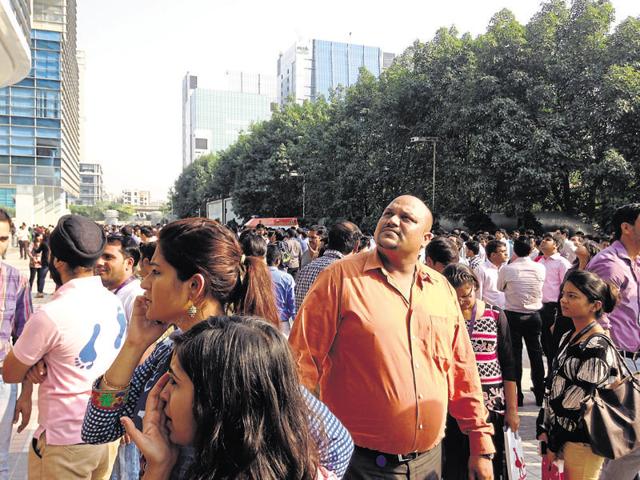 People rushed out of their offices and homes after tremors of a major earthquake that hit Afghanistan were felt in Gurgaon on Monday afternoon.
The 7.5 magnitude quake centred in the Hindu Kush range of north Afghanistan has killed over 160 people in the country and jolted entire north India.
In Gurgaon, the tremors were felt around 2:44pm and lasted for nearly a minute. Window panes and doors of several residential and commercial high-rises rattled, causing panic. However, there was no loss of life and property in the city.
"We conducted a preliminary survey and no damage has been reported due to the earthquake so far. In case of any damage, one can report it to the tehsildars concerned or the district revenue officer," Vinay Partap Singh, additional deputy commissioner of Gurgaon, said.
This is the second time that Gurgaon has felt strong tremors this year, exposing the need for a standard working disaster management plan.
Home to over 1,100 high-rises, Gurgaon faces a disaster management challenge as it is highly earthquake prone. The city falls under seismic zone 4, the highest is zone 5.
Mobile networks were down for almost half an hour. Varsha Singh, a resident of a Park View near Palam Vihar, said it was difficult trying to contact her family. "The mobile network was down and it was scary," she said.
Metro services were also halted from 2:40pm to 2:55pm. Officials of the Delhi Metro Rail Corporation (DMRC) said train services were resumed after a routine safety check was conducted.
Traffic jams were reported on major arterial stretches across the city as commuters parked their cars along roads.
Employees of private companies located in Cyber City, Cyber Park, MG Road and along Sohna Road rushed out of their buildings and assembled in open areas. "I was sitting in my office, which is on the 9th floor, when the fan and tables started shaking. The doors also banged which made us panicky. We all ran down the stairs," Sanjiv Kumar, an IT employee in Cyber Park, said.
Residents of high-rises were more affected as their furniture, chandeliers and kitchen appliances rattled for over a minute.
Alka Gurha, who lives on the 7th floor of Park View City on Sohna Road, said and her family rushed downstairs.
"The duration of the tremors was too long and we were frightened. I could see some offices from my window and it was scary to see hundreds of people running down," Gurha said.
Residents said Monday's tremors also exposed the lack of security guards trained to act during disasters. There was no help for senior citizens and children, who had to run down several floors.
BK Dhawan, a resident of Silver Oaks on Sohna Road, said there was need for trained personnel in condominiums. "Who will save us if a disaster strikes," he asked.