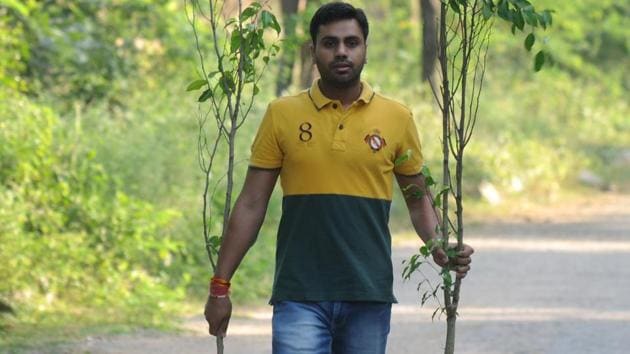 Amit Rathi, the man ridding Aravallis of invasive Vilayati Babool trees
Amit Rathi and his friends are planting indigenous trees around Gairatpur Baas to counter mesquite, which has hit groundwater table and inhibited other species.
PUBLISHED ON OCT 04, 2018 02:43 PM IST
Gairatpur Baas village, about 15km from Gurugram, is a semi-arid region where thousands of Mesquite, or Vilayti Babool, trees flourish. This invasive species, which spreads quickly, inhibits the growth of native trees and absorbs a lot of water, has started proving to be detrimental to the groundwater table. But local, Amit Rathi, and his friends are determined to change this environmental degradation.
"In the 1970s, the forest department had sprayed mesquite seeds from a helicopter in the area, not knowing the menace they would become," the 28-year-old said, adding that because of the mesquite trees, the rainwater that the region receives in the months of monsoon has never been enough to last the entire year.
Villagers said that 20 years ago, groundwater was at 50 feet, but it has since dropped to 280 feet. Due to scarcity of water, the area has also been a hotbed for man-animal conflicts as animals venture to the villages looking for water.
"We had asked the forest department to remove the trees several times, but in vain," Rathi said recounting the time he first wrote to the forest department in 2010. He has since written 23 letters to the department, but no good ever came of it until May this year, when he was finally able to extract a promise from the state forest minister Rao Narbir Singh.
"We are working towards removing mesquite species from the Aravallis. We will float a tender in three months," Rao Narbir Singh had said in May.
Gururgam district forest officer Deepak Nanda said, "Managing an invasive species is a difficult task and very hard for one man to do. However, this has not deterred Rathi from trying."
Rathi, however, worked alone for eight long years before villagers began to back him up.
"Initially the villagers, my family, and friends made fun of me. After planting trees alone for two years, they started supporting me. My family used to get scared seeing me go towards the Aravallis thinking that wild animals would attack. I have had many encounters with wild animals, but none have ever harmed me," Rathi said, adding that frustrated with the forest department's inaction, the then 20-year-old started removing mesquite trees one by one and planting native saplings of peepal instead.
He spent most of his time and money looking for space to plant saplings of indigenous species and convincing the villagers to help themselves. Rathi spends nearly Rs 50,000 per annum from his pocket to bring positive changes to the area's ecology. In the last six years, Rathi and villagers of Gairatpur Baas have planted more than 30,000 saplings of the indigenous variety.
Rathi even encouraged people in nearby villages to plant native saplings in the name of their loved ones or during marriage celebrations and other important family occasions. "It has become a ritual now to plant a tree whenever something important happens," he said, adding that today, the villagers have developed an emotional connection with the saplings.
Besides his continued efforts to free the Aravallis of mesquite, Rathi and friends have worked hard to dig a pond and lay a 2.5km-long water pipeline from the village borewells into the forest so ensure animals always have water to drink. The total cost of this project was Rs 3 lakh, which the villagers pooled in. Till now, the group has dug 14 pits in Gairatpur Baas and 34 in neighbouring villages. "We want the Aravallis to be a green area and have mobilized the support of the villagers for the same," he said.
Close