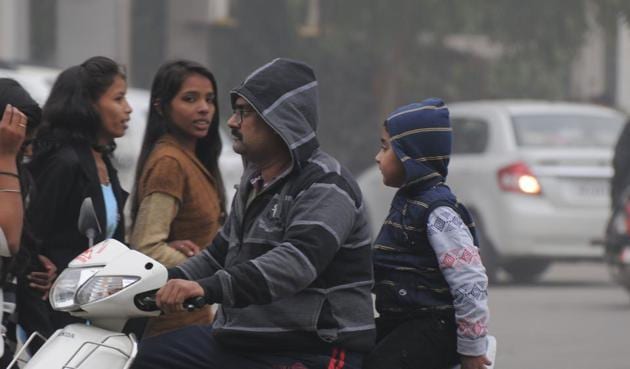 Dip in temperature leaves Gurgaon covered in blanket of smog
Air pollution plunged to a very unhealthy level due to a dip in the temperature
Hindustan Times | By Gulam Jeelani
, Gurgaon
PUBLISHED ON DEC 25, 2016 11:27 PM IST
It was a foggy Christmas day, coupled with light winds, in Gurgaon on Sunday. The air pollution plunged to a very unhealthy level due to a dip in the temperature.
Residents woke up to a sunny sky, but it didn't last for long. A blanket of fog started covering the city around 8.30am, and it grew thicker as the day passed.
The weather department officials said that the maximum temperature plummeted by nearly 10 notches.
The actual reading was, however, untraceable.
Officials said that the maximum temperature hovered around 15.4 degrees on Sunday, compared to the maximum of 24 degrees Celsius that was recorded on Saturday.
"The exact temperature is untraceable due to a technical glitch with the equipment. The dip was due to induced circulation over the region, due to which light easterly winds are likely to prevail, leading to an increase in the humidity levels too," an official of the weather department said.
Throughout the day, the visibility was below 200 metres across the city, and it was at a near-zero level on the outskirts. The maximum temperature is expected to stay around 15 degrees Celsius for the next two days, the weatherman said.
The dip in temperature, however, increased the pollution levels in the city.
The PM 2.5 (finer particles) level was 264 micrograms per cubic metre (µg/m³). The air quality was marked 'very unhealthy' as the PM2.5 level was significantly above the permissible limits, according to the officials of the Haryana State Pollution Control Board.
The permissible limit of PM2.5 is 60µg/m³. An official of the pollution control board said that the low temperature trapped the pollutants in the atmosphere, leading to an increase in pollution.
The weather department officials said that the strong winds will help clear the fog by Monday. However, the foggy conditions could return by Wednesday, the officials said.
Close