Gurgaon: City to get a new ambient air monitoring station by Oct 1
The city's only ambient air quality monitoring station is located at Rajiv Chowk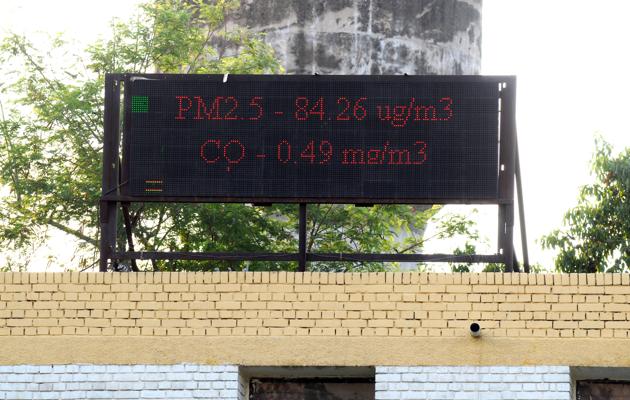 Updated on Sep 09, 2017 11:45 PM IST
The proposed ambient air quality monitoring system station will be installed in Gurgaon by October 1.
The Haryana State Pollution Control Board (HSPCB) with the help of Central Pollution Control Board (CPCB) will install the new station in IMT Maesar area.
"The tender has been approved and all other formalities are fulfilled. It will take us three days to install the station," JB Sharma, regional officer, Haryana State Pollution Control Board (HSPCB), said.
At present, the city only has one monitoring station as a result of which air quality from only one area could be monitored.
The air monitoring station is located at Rajiv Chowk, which is unable to give both PM 2.5 and PM10 pollutant levels, said experts.
The pollution watch dog is planning to install the second station in the city before Diwali festival, which falls on October 17 this year. "As the city air quality might get poor after Diwali, proper monitoring is required," Sharma said.
The new station will cost Rs 1 crore and will provide a comparative data on various pollutants in the city.
The city's air quality has been marked as 'poor' for most part of the year, because of the perennial construction work and unregulated plying of diesel autos. There has been a demand from experts to monitor air quality of various other areas as well.
Last year, after Diwali, the air pollutant level in the city rose to more than 13 times than the permissible level. On November 4,2017, the HSPCB recorded the level of fine particulate matter (PM2.5) at more than 800 µg/m³.The safe threshold for PM 2.5 is 60 g/m3.
Read I Gurgaon beats Delhi to worse air quality of day
Every year, it has been noticed that the pollutants such as sulphur dioxide, nitrogen dioxide and suspended particulate matter such as PM10 are released in the air when crackers are burst.
"Every year after Diwali festival, the region witness rise in the level of pollutants in the atmosphere. The city with only one air monitoring station fails to provide a clear picture of the pollutants," Anumita Roy Chowdhury, executive director, centre from science and education (CSE), said.
Close Story
Personalise your news feed. Follow trending topics