Gurgaon: Civic officials confident of work, not public feedback
Published on Jan 28, 2018 11:26 PM IST
Measures taken in the last 12 months have made Gurgaon cleaner, but 35% in the Swachh survey relies on public feedback, says MCG joint commissioner Anu Sheokand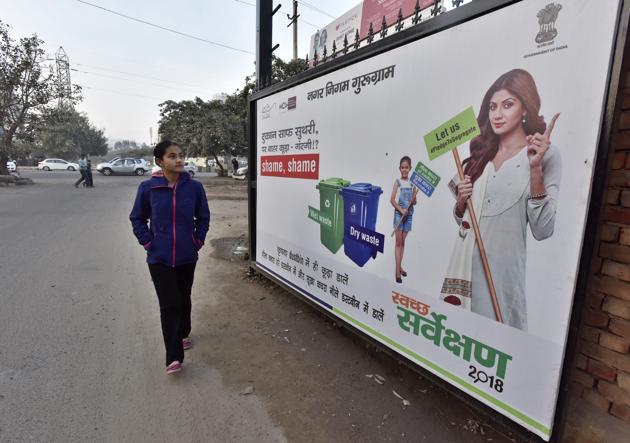 The officers of the Municipal Corporation of Gurugram, who said they have implemented several measures to improve the city's sanitation facilities over the past year, are hopeful that their hard work will bear fruit and the city's Swachh ranking would improve.
In the 2017 survey, Gurgaon ranked a poor 112th among 434 cities, slipping from its 36th position (out of 73 cities) in 2016. A total of 4,041 cities are participating in this year's survey.
As per MCG officials, the civic body has initiated measures such as enforcing door-to-door collection of waste increased localised composting of municipal solid waste, and made the city open defecation-free.
"Lot of effort has been put in the last year. The city has become open defecation-free which was certified after verification. A third of all wards now have the facility of door-to-door collection of waste, and we plan to extend this facility to all the 34 wards of the city by March 31," MCG Commissioner V Umashankar said, adding that owing to the door-to-door collection of waste, 'garbage issues' in the city has reduced.
He also said that the MCG has increased its participation with Residential Welfare Associations by building solid waste compost plants at may residential areas. This has increased the turnout of compost from 1 tonne in 2016 to 15 tonnes in 2017.
While rural Gurgaon got its ODF certificate in March last year, urban Gurgaon followed suit in the latter half of the year.
But officials said despite their efforts they are sceptical of the final outcome.
"Measures taken in the last 12 months have made Gurgaon cleaner, but 35% in the Swachh survey relies on public feedback," MCG joint commissioner Anu Sheokand said.
Residents are also not convinced that the survey is the best indicator for judging a city's cleanliness.
"With 4,041 cities being evaluated, it is impossible to maintain a uniform standard to rate a city. The survey needs to make the views expressed in the public feedback as the final determining factor for finalising a city's ranking," Anand Rungta, a resident of Sector 47, said.