Gurgaon: Health workers' strike continues for third day, services hit
Dec 07, 2017 10:50 PM IST
Contractual health workers in Gurgaon have been on strike since Tuesday, demanding better pay and permanent jobs
As the strike by workers associated with the National Health Mission (NHM), demanding a pay hike and permanent jobs, continued for the third consecutive day in the city on Thursday, the ambulance and health care services were badly hit resulting in inconvenience for patients at the Civil Hospital.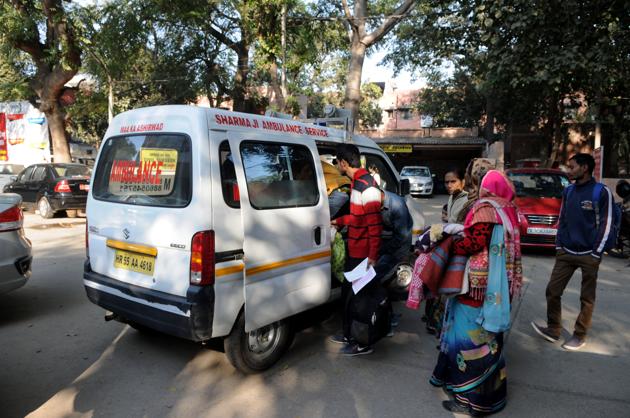 The workers, who are employed on contract, launched the strike on Tuesday seeking regularisation of service.
Himanshu Kumar, 26, was left with no option but to arrange a private ambulance to have his two-day-old premature baby shifted from the government hospital at the Civil Lines to Delhi's Safdarjung Hospital.
"I had to pay ₹2,500 for the ambulance to have my baby shifted from Gurgaon to Safdarjung Hospital. The doctors here asked me to take my baby to New Delhi, as there's not enough staff at Neonatal Intensive Care Unit (NICU) ward because of the strike," said Kumar, a resident of Jamalpur near the railway station.
He got his newborn and wife Priya, 24, admitted to the Civil Hospital on Wednesday. He said the doctors advised him to have his baby boy shifted to Safdarjung Hospital, as he was having a breathing problem. After waiting for more than three hours, he could avail of a private ambulance to take his daughter to the Delhi hospital.
A similar hassle awaited Sunil Yadav, who reached the government hospital at 2.15 pm with his child. Even though his child had high fever, the doctors refused to admit him and advised his father to head to Safdarjung instead.
"This is needless harassment. We are poor people and cannot spend so much money on an ambulance," said Yadav, a resident of Sector 9.
As many as 650 contractual health workers in Gurgaon are taking part in the stir. They are deputed at the NICU ward and are also part of the ambulance and cleaning staff. There are 12,500 NHM workers in Haryana.
The protesting NHM workers said they are not planning to return to work, as the meeting with the health department officials in Chandigarh on Thursday failed, said a representative of NHM workers' union.
"At the meeting with health department officials in Chandigarh, we demanded a pay hike and permanent jobs for contractual workers. The government didn't agree to our demands. Hence, we have no option but to continue with our protest," Hariraj, secretary, NHM workers' union, said.
Read I Gurgaon NRHM workers threaten strike if jobs are not made permanent
However, the officials at Civil Hospital claimed that the strike by the contractual health workers hasn't affected their services.
"We are in control and are trying to arrange more staff to deal with emergencies. We plan to hire some drivers in the interim to resume our ambulance service in the city," said BK Rajora, chief medical officer, Civil Hospital.
Gurgaon district has a total of 16 ambulances for government hospitals. Six of them are for the Civil Hospital. Of these, three are advance life support ambulances and the remaining are basic life support ambulances.
"On any given day, our ambulance service receives more than 50 calls," said Mayank Goyal, a NHM worker at the Civil Hospital who is part of the ambulance service.