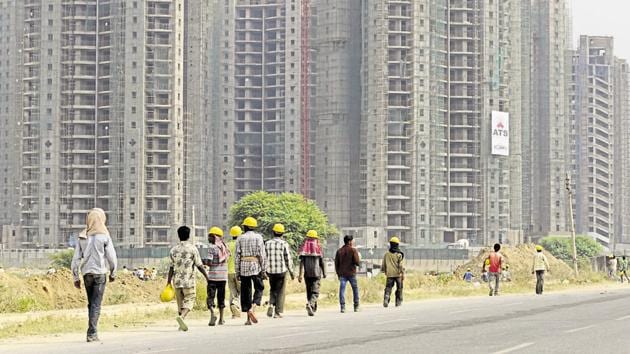 Gurgaon homebuyers reject 'pro-builder' RERA in its present form
The federation of apartments' owners association is annoyed by certain exemptions from the provided to builders
UPDATED ON MAY 04, 2017 02:00 PM IST
Gurgaon homebuyers have decided to reject the draft of the real estate regulatory authority (RERA) in its present form. The federation of apartments' owners association (FAOA), which studied the draft, termed it "biased and pro-builder".
As per the RERA draft, a builder who has obtained a completion certificate (CC) or an occupancy certificate (OC) will be exempted from the Act. This provision has annoyed buyers who said it amounted to "cheating of innocent buyers".
"This would mean that if an OC for a few towers is obtained by the builder, then deficiencies in the project cannot be taken up with the real estate authority, even if a huge amount of work is pending in the sanctioned project," said Lt General (retired) SK Bahri, president of the federation, adding that spirit of RERA is missing from the present draft.
The federation said CC is the most important document which safeguards the buyer as it ensures that the project sanctioning authority is satisfied that the project has been completed as promised by the builder.
The federation said in the absence of a completion certificate, the builder treats a project as an income generating fiefdom.
"Some builders, over the years, have not only squeezed the original buyers into one third the original area promised, but have also set up additional rental earning facilities. All this was done with a wink and a nod from the babu/neta nexus. Moreover, the standby generator sets are not in the control of the RWA and the builder charges preposterous rates for power. This happens with the connivance of officials and the support of politicians," Bahri said.
The buyers' major concern is that delayed residential projects are now being rushed to obtain an OC and CC from the town and country planning department in order to escape the RERA.
"In the present RERA draft, it seems the government has sided with the developers and is giving them a way to escape the buyers' wrath in every ongoing project," said Shephalika Sharma, vice president, FAOA, adding that buyers under the federation banner are meeting this Sunday to plan the next step.
Dilbag Singh, former chief town planner, Haryana, who was appointed executive director of the RERA draft committee, said, "It is completely a pro-buyer draft."
It is worth noting that the government has sought suggestions and objections from the public till May 15, after which a tribunal will be appointed and RERA will be come into being from June 1.
A senior official in the town planning department said they have received applications from developers of nearly 50 projects so far seeking OCs and CCs.
Close