Gurgaon: Leave valuables in car at your own risk
Updated on Jan 27, 2018 11:47 PM IST
Gurgaon police has been at pains to tackle the rising cases of car break-in and theft. The criminals target vehicles parked in unsafe locations and clean out cash, laptops, phones and other valuables in them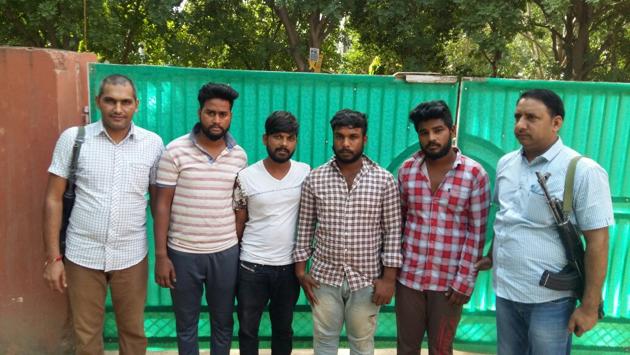 Unidentified men broke the window of a car parked outside a private hospital in Sushant Lok-1 on May 24 last year and made off with a laptop bag and a licensed pistol kept in it. Fortunately, the magazine of the weapon was removed by the owner, Sushil Goyal, a resident of Sector 53 and son of former MLA from Hansi, Hisar. Goyal, who reached the hospital around 6.30pm, had parked his car outside the hospital premises in an unsafe location.
In a similar incident on January 5 this year, assistant vice president of a business processing firm parked his car outside a popular restaurant on the busy Golf Course Road. When he returned along with his friends, he found the rear glass window broken and his laptop bag and mobile phone missing. The window of his friend's car was also broken and a bag stolen.
What is common in 400 such incidents reported in 2017 on Golf Course Road, MG Road, Sohna Road and across Gurgaon is that cars were parked in unsafe areas and roads, at venues without guards and surveillance cameras. Also car owners had left laptop bags, mobiles and handbags in the vehicles as they did not want to carry them to meetings, shops and restaurants.
"The incident happened when we had parked our car outside a restaurant on Golf Course Road. It was a shocking experience and we reported the matter to the police. The police are aware of such incidents and should take necessary measures to stop them," Jasbir Singh, assistant vice president of a business process company, said.
Gurgaon police, which has been engaged in a cat and mouse fight against gangs involved in these car break-ins, says that leaving behind valuables in the car, and parking them in unsafe areas was like giving an open invitation for robbery and theft.
Read I Gurgaon: Inter-state gang of robbers busted, 6 held
Although these gangs have been operating in Gurgaon since 2014, they emerged as a threat to residents in 2017 when there was a steep rise in such kind of car heists.
In 2016, the police had registered 280 cases in which car windows were broken and laptops and other valuables stolen.
Shifted base to Gurgaon from Delhi, changed modus operandi:
The police claim the reason for an increase in such instances is that a large number of organised criminal gangs, popularly known as 'Thak Thak' (knock-knock) gangs, based in South Delhi have now expanded their operations in Gurgaon, particularly areas adjoining New Delhi. Police sources said that this happened after the Delhi police tightened the screws on these criminals using usual policing methods and reaching out their community members and having them send out a message to the gang members that they would be socially ostracized if they don't refrain from such criminal activities. Such methods forced the gang to expand operations across North India, particularly the National Capital Region (NCR).
Proximity of their residences to DLF phase 1, DLF phase 2, MG Road, Golf Course Road and IT and corporate hubs such as CyberHub have made them their preferred targets.
"Majority of these gangs are based in Madangir, Sunder Nagar and other areas and they are professional thieves. They operate in groups of 3 to 4 persons, come on rented bikes, autos and even cabs. After carrying out four to five hits they escape to their colonies in Delhi," said sub-inspector Manoj Kadyan, in charge, crime branch, Sector 40, who has pursued these gangs since the last one year.
Members of the Thak-Thak gangs in Delhi distract car drivers by either knocking on car windows, puncturing tyres, throwing some cash outside the car or engaging them in minor accidents. After distracting the occupants, one of the gang members flees with valuables in the car, the police said.
In Gurgaon, however, these gangs have changed their modus operandi and prefer to break car windows and steal valuables at parking lots, on major roads and outside eateries. These gangs carry an improvised sling-shot (shot) and use ball bearings that break car windows with ease. There is little noise and they are able to decamp with valuables within a minute, Kadyan said.
"CCTV footage enabled us to identify and catch them. Also, a network of informers in Delhi and Gurgaon and identification of receivers has helped us get a grip on them, but they still pose a major challenge," he said.
Crime branch alerted after spike in cases:
It was in April, 2017, after a number of cars were broken into and laptops, mobiles and other valuables stolen that Gurgaon police commissioner Sandeep Khirwar summoned the crime branch officials and asked them to crack down on the 'Thak Thak' gangs. The gang members are believed to have migrated from south India and make Delhi their home.
"These gangs had created a menace as everyday three to four cases were reported. The complainants not only reported the loss of valuables, but also the loss of confidential data and information," Khirwar said.
Sumit Kuhar, DCP crime, said that crime fighting teams were given the job to track these gangs and learn about their modus operandi. "Our teams approached Delhi police, went to the areas where these criminals lived, created a database and developed an information network. It took almost 3 to 4 months, but results did come," he said.
In August, 2017, the crime branch team of Sector 40, led by sub-inspector Kadyan, managed to bust a gang led by Pawan Naidu, along with Amar, Vishal and Anil. This gang had carried out over 40 heists that were counted by the police and Naidu along with his gang was sent to Bhondsi jail.
Police find them a tough nut to crack:
What has surprised the police and often put them on back-foot, admit officials, is that the Naidu gang and all others later arrested are very professional, hardened, and sophisticated.
"As soon as a gang is busted and members arrested, their lawyer reaches the police station. They don't reply to questions and speak in only their native language once in custody. None of them speaks out even when they are interrogated. And most importantly, they never carry a weapon, never engage in snatching and only commit simple thefts," said a police official on the condition of anonymity. The officer said that the police is often exasperated by the persistence shown by these Delhi-based gangsters.
These criminals also adopt a psychological approach to stay a step ahead of the police and take unusual steps to avoid questioning. A police officer recalls that a member of the Thak-Thak gang, when arrested by crime branch, suddenly smeared himself with his own excreta which upset the investigative officer. "The officer was shocked by this ploy and did not question him for two days. However, we have understood their tactics and methods and have been able to contain them to some extent. But, a lot more needs to be done," said another crime branch officer on the condition of anonymity as he is not authorised to speak to the media.
In another instance, when the police managed to identify a criminal and he was asked to surrender, the accused cut himself deep on his thighs and got the wounds stitched from a doctor just to avoid hard questioning. "In such a situation, there is nothing but patience and experience that counts for the police," Kadyan said.
DCP Kuhar said that although these gangs have been identified, they have once again become active in the city and need to be neutralised. "For three to four months they remained inert but again such incidents are back and now we are planning a concerted drive to check them," he said.
Don't leave valuables in car: Top cop
As a full proof measure to stay safe against such gangs, Gurgaon police commissioner Sandeep Khirwar advised residents never to park their cars in areas deemed unsafe. He said he never parks his private car in an unsafe area and neither does he leave his laptop or bag in the car. "As much as the police tries, these crimes will never stop unless we adopt safe practices. I would request people to refrain from keeping laptop bags, mobiles and other such items in the car, under seats and anywhere else as these are easy pickings. They should also park in regulated and monitored areas instead of roads," he said. As the incidents of car break-ins on weekends are on the rise, particularly in food hotspots and outside ahatas (open drinking spaces), Khirwar wants the IT professionals and corporate executives to be more aware of the risk.
"Many a time, as many as 3 to 4 laptops are left in a car. Mobiles are also kept inside and so are handbags, which are mostly used for carrying light jewellery. These are easy targets," Khirwar said.
On the enforcement side, Khirwar says they have understood the modus operandi of these criminals and have developed information, contacts, informers and have also deployed decoys on major roads and key locations. Apart from boosting its own CCTV network, the Gurgaon police wants private firms, restaurants and places with high walk-ins to have a good surveillance networks