Gurgaon: Less number of injuries to birds, pets from crackers this Diwali
Updated on Oct 20, 2017 10:01 PM IST
Experts said better awareness on risks to birds and pets from fireworks helped reduce cases of injuries this Diwali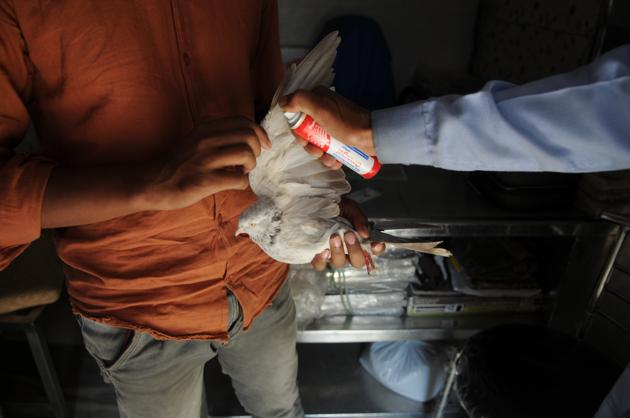 Cases of cracker-induced injuries reported at the city's bird hospital on Diwali are significantly less this year as compared to the last year.
Officials at the Charity Birds Hospital at Gurgaon's Sadar Bazar said that only 10 such cases were reported this year, as compared to 60 last year. The Sadar bazar hospital is the only facility of its kind in the city. The doctors said the reduction injuries to birds this Diwali is significant and remarkable.
Experts at the hospital pointed out that as the ban on sale on firecrackers by the Supreme Court was in force and the Punjab and Haryana high court had also set a three-hour time limit for bursting crackers on Diwali, the air quality in the city was significantly better on the day than previous years. They attributed the improvement in air quality and reduction of cracker-induced injuries to birds and animals to better public awareness on pollution and the risks to birds and pets on Diwali.
"We admit most birds suffering from burns and dehydration during the festival. Birds such as pigeons, maynas and crows suffer the most as they live close to human habitat. This year, we have received very less injured and sick birds," Raj Kumar, a doctor at the Charity Birds Hospital, said.
He also pointed out that as the air quality on Diwali was better than last year and use of crackers a lot less, injuries to birds and pets was at a minimum. "The birds are on medication and will take less than three days to recover," he added.
Read I Gurgaon breathes a bit easier this year after Diwali
The birds admitted to the facility are suffering from less appetite and depression because of noise generated by firecrackers during Diwali.
Residents from DLF Phase-2, Sector-4, Palam Vihar admitted injured birds they picked from roadsides a day after Diwali. "We might have more cases of injured birds in the next two to three days," Kumar said.
Similarly, reports on injuries to dogs was also a lot less than previous years, said animal right activists.
"This year, after Diwali, figures of injured pets and stay animals have decreased considerably because of the restriction on firecrackers," Amit Chaudhery, president, People's for animals, an NGO working to spread awareness on animal cruelty, said.
Personalise your news feed. Follow trending topics