Gurgaon: MCG removes encroachment for construction of railway overbridge
Updated on May 24, 2017 10:25 PM IST
Notices were issued to encroachers and they were also summoned for hearings at the MCG office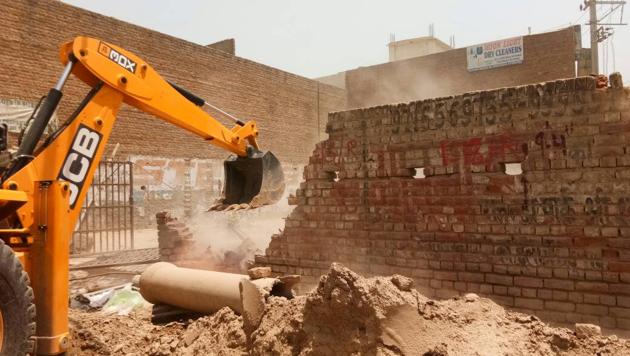 To pave the way for the construction of a railway overbridge (ROB), the Municipal Corporation of Gurugram (MCG) conducted an anti-encroachment drive at Bajghera and razed 15 structures.
On the directions of MCG joint commissioner Anu Sheokand, the enforcement team from the MCG conducted the anti-encroachment drive in the presence of police.
As per MCG officials, Northern Railways is constructing an RoB at Bajghera and the encroachments were proving to be a hurdle.
The railway line connects New Delhi, Rohtak, Hisar and Sirsa and, hence, is regularly used by passenger trains and goods trains. The railway crossing is often closed to vehicles and pedestrians, thereby hampering traffic flow. A rail overbridge is being constructed at the spot to allow free flow of vehicles.
Read I Gurgaon residents move NGT over encroachment of Badshahpur drain
Accordingly, notices were issued to encroachers, who were also called for hearings at the MCG office.
"Despite notices and individual hearing, those who did not comply with the MCG's directions saw their structure being demolished with earthmovers," Sheokand said.
MCG officials also conducted an anti-encroachment drive at Vatika Chowk on Wednesday and demolished illegal shops and shanties that were allegedly coming in the way of pedestrian movement and traffic.
Personalise your news feed. Follow trending topics