Gurgaon PG death: Beatings and abuse frequent at facility, say victim's roommates
Updated on Jul 06, 2017 11:52 PM IST
A Nainital man died after he was allegedly pushed off the fifth floor by the PG owner in a clash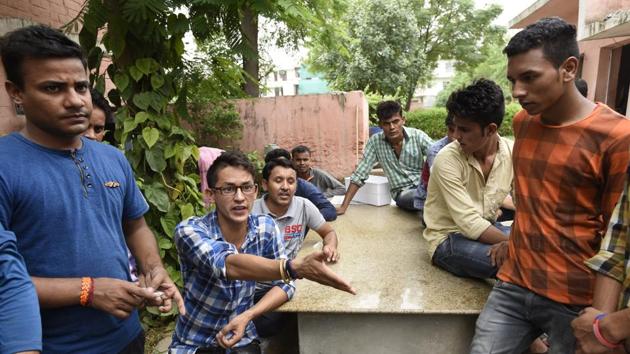 hindustan times |
, Gurgaon
Yashaswani Sehrawat
Friends and roommates of Ramesh Kumar Bisht, who died after allegedly being pushed off the fifth floor of a paying guest (PG) accommodation in DLF 3, said that Wednesday night wasn't the first time the PG owner, Satbir Singh, had fought with them. They said he had been abusing and threatening them for the past few days.
Around 12:30am on Thursday, Singh allegedly went to the fifth floor with his two sons, caretaker Sushil and 8 to 10 other men and had another altercation.
Kishan Singh Deopa, Bisht's roommate and an eyewitness, said Singh used to drink and "create a ruckus on our floor at night" often. "He definitely had a problem with us. He used to disconnect our water and electricity supply. All of us, including Ramesh, had made several complaints to the owner and the caretaker about this. Singh often threatened us saying we were outsiders and they were locals," said Deopa, 20.
"Our complaints didn't go well with Singh and others, who always used to come wearing white kurtas," said Ravi Mangla, 22, another tenant. He added that on Wednesday night too Singh arrived with his two sons after drinking. "He again started shouting and abusing. He said three more beds had to be put in Ramesh's room. There were already three beds and six people used to stay there. When Ramesh and others protested, he called the caretaker and 8-10 other men, including bouncers, and asked Ramesh and his roommates to vacate the room," Mangla said.
Neeraj Singh Panwar, Bisht's roommate, on whose statement the FIR was registered, said they asked Singh and his men to leave and that they would vacate the room the next morning.
"But the owner and his men started beating us. They had lathis and rods with them. We started running from room to room but Singh, his sons and the men followed us to every room and beat us up," he said.
Deopa said when Bisht ran towards the balcony to save himself, one of the men took aim and threw a lathi at his head. Singh and the caretaker too ran towards Bisht and pushed him off the balcony, he added.
Bisht's friends said they rushed him to Neelkanth Hospital, but he had died by then.
Panwar said Singh and five of his men had beaten them up three days ago too. "Singh lived on the first floor and we stayed on the fifth floor. Three days ago, he had come with his men and beat up some of us, including Ramesh, with shoes and sticks," he said.
"He said we threw water from the balcony to irritate him. This was obviously not true. He was just looking for reasons to pick a fight and beat us up," he said.
The family, however, has a different version. Singh's wife Kaushalya said, "The men on the fifth floor drank a lot and took drugs".
"They engaged in all kinds of illegal activities and created a nuisance every now and then. Wednesday was one such night. When my husband went upstairs to tell them to lower their volumes, they started a fight," she said. Singh's brother said the fight was actually between the caretaker and the tenants. "My brother was forced to get involved and now he has to pay the price," he said.
Close Story
Personalise your news feed. Follow trending topics