Gurgaon's Badshahpur drain – a neglect that cost the city dear
A visit by HT team on Friday revealed a dismal picture of encroachment, dumping of industrial waste inside and outside the drain has blocked its flow.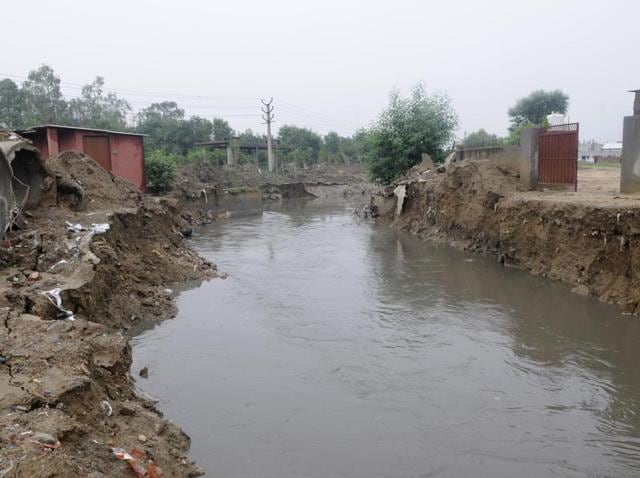 Published on Jul 30, 2016 04:05 PM IST
Civic bodies, district administration, police and urban authority have been under fire since Thursday noon when the skies opened up. With most roads gridlocked for over 12 hours, official lethargy gave way to a frantic hunt for the root of all problems - indiscriminate dumping into Badshahpur drain.
A visit by HT team on Friday revealed a dismal picture of encroachment and dumping of liquid and solid industrial waste inside and outside the drain blocking its flow. Villages situated along the drain have also been dumping waste into the drain, which has not been cleaned properly for years.
The team visited a 3-km stretch of the drain up to Delhi-Gurgaon expressway where it crosses over to the other side of the expressway. The 28-km long drain carries water from Ghata village in Gurgaon to Najafgarh drain in Delhi. Its capacity narrows at Khandsa village near Hero Honda Chowk.
Read more: Huda, MCG officials responsible for Gurgaon's water-logging fiasco
As natural flow of drain was blocked near the expressway, water started flowing backwards leading to inundation of several areas, including Hero Honda Chowk and 10 sectors in the vicinity. Water from Hero Honda Chowk had to be pumped out to make way for traffic.
With an aim to get rid of the perennial waterlogging, Haryana Urban Development Authority (Huda) had undertaken a channelisation project of Badshahpur drain last year. The authority started concreting the drain, which was opposed by environmentalists and work was stopped midway.
The authority in coordination with Municipal Corporation of Gurgaon, National Highways Authority of India and other agencies began work at Hero Honda Chowk, Khandsa drain and beyond to ensure excess water was released into Najafgarh drain.
Read more: The 'Good Gaon' days: When Gurgaon wasn't a concrete monster
"There are non-polluting industries along the drain. Claims of industries dumping water are baseless as the drain already carries a lot of garbage from upstream villages," said Deepak Maini, general secretary Industrial Development Association.
Shweta Sharma, executive engineer, Huda, claimed the drain was cleaned. She said water flow into the drain from Sohna and Aravallis was huge and put pressure on the drain leading to a backflow.
Haryana chief secretary DS Dhesi said as rainwater is discharged into the Najafgarh drain, a chief engineer of the irrigation department will be deployed at Dhansabad in Delhi to ensure better coordination with counterparts in the national capital. Additional chief secretary, Haryana disaster management, Keshni Anand Arora also spoke to Delhi Chief secretary on Friday about the prevailing situation.
Close Story