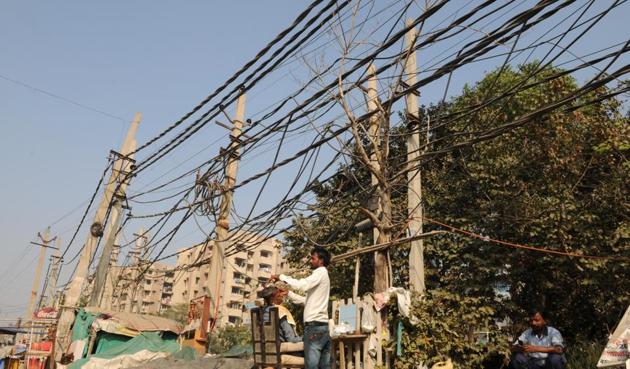 Gurgaon's Smart Grid project restructured to cut costs, improve efficiency
As per the new plan, consumers will not be required to pay an extra surcharge
PUBLISHED ON DEC 26, 2016 11:42 PM IST
The Smart Grid project, aimed at providing uninterrupted power to Gurgaon, has been completely restructured to reduce cost, time and to improve efficiency. As per the new plan, consumers will not be required to pay an extra surcharge as proposed in the previous plan.
Earlier, the project was to be undertaken in three phases and the city was divided into zones and subdivisions for the project. A project report, prepared by the Power Grid Corporation of India Limited, had estimated the cost of the project at around Rs12,000 crore. The plan was aimed at overhauling the entire power infrastructure and relocating it underground.
Considering the cost and estimated time for the project, authorities of Dakshin Haryana Bijli Vitran Nigam (DHBVN), the discom supplying power to southern Haryana including Gurgaon, restructured the project in four layers and drastically reduced the estimated cost to Rs3,500 crore for the project.
The new plan has four layers — relocating 11KV electricity lines underground, setting up of supervisory control and data acquisition system (Scada) system, installation of smart meters and strengthening the low tension wire system.
The first three layers will cost a total Rs1,600 and rest of the budget will be spent on the last layer. Authorities aim to complete the first three layers by March 2019 and a deadline of 2022 has been set for the fourth layer.
The revised project plan is proposed to cover the entire city, including Manesar, in the four layers. "Specific work will be undertaken and completed across all the areas in one go. Work on other layers will be undertaken thereafter and completed in a sequential manner," Arun Kumar Verma, managing director of DHBVN, said.
As per the earlier plan, areas were earmarked in three phases and the whole project was to be completed in a particular phase before work on the next phase was to be started.
The discom had floated tenders for the project in sub-division under the first phase, but the process was postponed thrice, reportedly due to lack of expected response from bidders, official sources said.
Initially, tenders were to be opened on July 22 but the date was extended to August 17 and then to September 28. The state government had set a target of starting construction of the first subdivision, worth Rs1,300 crore, by December. "This (earlier plan) meant that a lot of time was consumed in developing only one area and the cost was also exorbitant," Verma said.
"In the new plan, the four layers have been designed in such a way that specific work will be undertaken and completed in one go across the entire city," Sanjeev Chopra, superintending engineer, Smart Grid , said.
In the first layer, the discom will shift 11KV electricity cables (that supply power from substations to transformers) underground, thereby strengthening the ring main system, feeder interconnection and increasing the capacity of existing infrastructure. Snapping of electricity cables during rains and heavy winds is a regular occurrence. Officials said that this problem will be reduced by 90% once the lines are shifted. Eight tenders are to be released, two in this week and six before January 31. Officials said that each tender will be given two years for completion, failing which a penalty would be levied.
Ring main system and feeder interconnection will ensure that no area is left in darkness. "Feeder interconnection ensures that even if a feeder trips, power is restored from an alternate feeder. We are aiming to increase the capacity of infrastructure to 100% efficiency and provide 24x7 supply," Chopra said.
After shifting cables underground, work on the supervisory control and data acquisition (Scada) system will be done. Through this system. authorities will be able to exercise automatic control on the power supply at the substation level. Scada is a computer software and uses networked data communications and graphical user interfaces for high-level process supervisory management.
The system provides supervisory control of power system element, a replay of events, protective and informative tagging of power system device, load management, recording sequence of events and providing a user interface.
Chopra said that the system will allow discom staff to manage load as per need. The staff will also receive real time information about problems in power supply.
Smart meters or advanced metering infrastructure are a two-way interface to check theft, overloading, transmission and distribution losses. Consumers will be able to adjust usage as per the tariff so that power is saved.
Arun Kumar Verma, DHBVN managing director, said that the aim is to replace all existing meters with smart meters before March 2020."We will talk to some companies to procure smart meters in bulk," he said.
The discom will strengthen the low tension, 440V lines that supply power from transformers to consumers. "This is time-consuming and costly work as a large number of lines will have to be dealt with. But, strengthening this system will ensure 100% efficiency," Chopra said.
Close