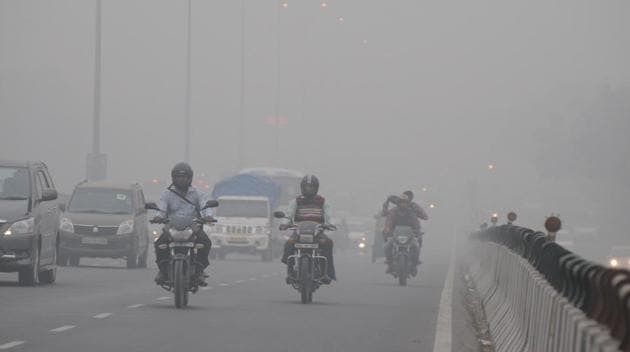 Gurgaon witnesses coldest day of season, pollution spikes
Pollution level was marked severe and minimum temperature dropped to 6 degrees Celsius
PUBLISHED ON DEC 23, 2016 11:08 PM IST
As residents woke up to the coldest morning of this season on Friday, the pollution level reached an alarming level and was marked severe. The minimum temperature was 6 degrees Celsius, a dip of almost three units from Thursday's minimum temperature of 8.8 degrees Celsius.
The maximum temperature recorded on Friday was 22 degrees Celsius.
PM2.5 (finer particles) level was 603.13 micrograms per cubic metre (µg/m³). The air quality was marked severe as the PM2.5 level increased significantly from Thursday's recording of 389.8µg/m³, officials of the Haryana State Pollution Control Board (HSPCB) said.
The permissible limit of PM2.5 is 60µg/m³. Environmentalists raised concerns over worsening air quality, which has been persisting since Diwali.
Officials said that the wind speed was also zero on Friday, due to which pollutants were not dispersed.
The visibility was below 200 metres in the city, and it dipped to near-zero level on the outskirts. A blanket of smog engulfed the city throughout the day and sunlight was minimum.
Officials of the weather department said that the temperature is likely to decrease further in the next two to three days. "The low temperature has trapped the pollutants in the atmosphere, which has led to an increase in pollution. We are making a list of agents responsible for the rise in the level of pollutants in the city," Vijay Chowdhery, environmental engineer, HSPCB, said.
Experts were of the opinion that the sudden increase in pollution levels is due to dip in the temperature.
However, officials said that there is no conclusive reason for the sudden rise in pollution in the city.
"There are no heavily polluting industrial units in Gurgaon or in the areas nearby. We cannot say that the smog is because of them. Pollution from vehicular emissions and diesel-run generator sets are the major causes of air pollution in the city. This has translated into smog in the past few days due to a dip in temperature," Bhupinder Singh, regional officer, HSPCB, Gurgaon, said.
Taking cognizance of the rising level of pollution in the region, the National Green Tribunal (NGT) on Monday had asked the HSPCB to submit a report on the agents contributing to rising air pollution in the city and the measures to be taken to reduce it. HSPCB is to submit the report by next Monday.
The air quality in the region has remained poor since Diwali. Earlier in the week, the NCR Planning Board (NCRPB) had asked Delhi and adjoining states to submit action plans to control air pollution in Delhi and NCR states were asked to improve forest cover by six times to take the total up to 20% of total area.
Close