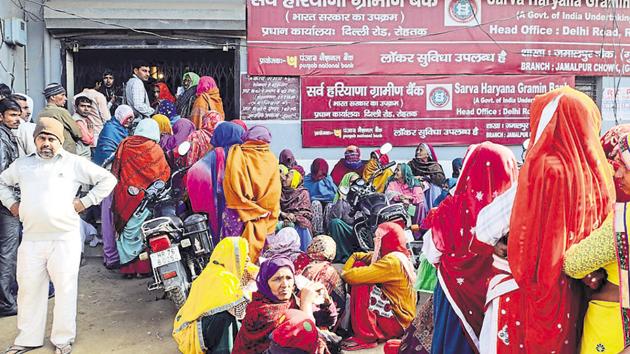 Note so easy: 'Cashless' Gurgaon village grapples with network issues, reality
Fazilpur Badli, 65 km from the national capital, underscores the hurdles that need to be overcome for the government's digital push to work in a remonetised India.
UPDATED ON DEC 28, 2016 01:30 AM IST
Cashless could be the buzzword but it is easier said than done.
Fazilpur Badli, 65 km from the national capital, underscores the hurdles that need to be overcome for the government's digital push to work in a remonetised India.
Fazilpur Badli in Gurgaon district is among the villages picked in each Haryana district as a model for others to follow in adopting digital modes of payments after the Centre's demonetisation move.
All 450 households have a smart phone and a bank account each. Every villager has an Aadhaar number and the 12 village shops have Paytm accounts.
But, grocer Ashok Kumar says he only accepts cash -- his cellphone has "network issues".
A retired policeman, Shiv Lal, 70, has a debit card but every time he needs cash, he travels four kilometres to Farukhnagar to withdraw money from a bank.
Fazilpur Badli doesn't have a bank or an ATM kiosk. The cellular network is fickle as the weather.
"By cashless, we actually mean less of cash. We are in touch with a bank for an ATM. The network issue is there and we are working to resolve it," Gurgaon additional deputy commissioner Vinay Pratap Singh said.
The dusty village of 3,200 people is 27km from the IT hub of Gurgaon but hundreds of miles separate them when it comes to infrastructure.
"Our phones do not have proper network, forget about internet facility to operate Paytm," Kumar said.
A cellular tower shared by two private service-providers caught fire a month ago. It is still to be repaired even as the administration promises free WiFi. There are two more towers but connectivity is poor.
And, then there are power outages – four hours a day.
On Monday, village head Govind Singh, 29, was felicitated at a 'DigiDhan' fair for ensuring cashless transaction facility in the village. Chief minister Manohar Lal Khattar chaired the event.
"Gram panchayat Fazilpur Badli was also felicitated for all residents being covered under Aadhaar, having bank accounts and mobile phones and all shops in the village having cashless transaction facility," the state government said in a statement.
In the cashless village, cash continues to be the preferred mode of transaction. The village will soon get its first card-swiping machine though everyone has a debit card.
"More than 50% people use cash," said Mahesh Kumar, another shopkeeper.
Most of the villagers are either agriculturists or work in neigbourig industrial hub of Manesar. The elderly, like 65-year-old pensioner Prabhu Dayal, are yet to take to the "cashless" idea.
"We are illiterate people. I do not know what being cashless means. All I know is I have been able to withdraw my pension in Rs 100 and Rs 10 notes and pass it on to my family," Dayal said.
Though tech-savvy, youngsters say the digital switch will take time.
"They have made a start but it will take time. We have been demanding a bank branch and an ATM for quite some time now," said Umesh Kumar, who works at a grocery store in Gurgaon.
Village head Singh, an MBA, acknowledges a lot remains to be done. "We are trying to provide people with facilities. We can't expect to be completely cashless overnight," he said.
Close