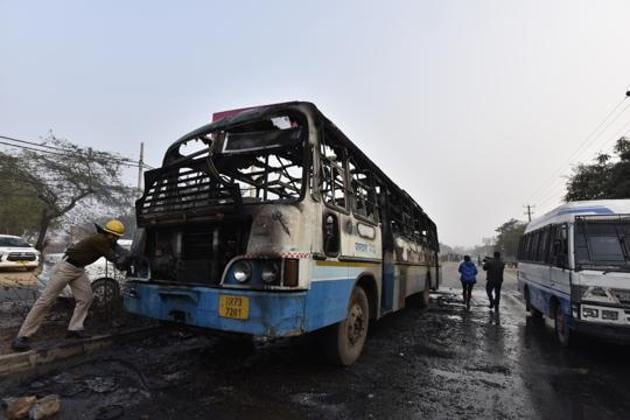 One more juvenile gets bail in the Bhondsi violence case
While granting the bail, principal magistrate Davender Singh said that no useful purpose would be served by keeping the juvenile behind bars. Hence, the juvenile is released on a bail bond of
₹
40,000 and one surety of the like sum
PUBLISHED ON FEB 27, 2018 11:48 PM IST
Gurgaon: One more juvenile was granted bail on Tuesday in connection with the violence in Bhondsi over the release of Sanjay Leela Bhansali's period drama movie 'Padmaavat'.
The 15-year-old was apprehended by the Bhondsi police on January 24 for his alleged involvement in the violence. Protesters, seeking a ban on the movie, had pelted stones at a school bus carrying children and also set a roadways bus ablaze in Bhondsi on January 24.
The Juvenile Justice Board (JJB) on Tuesday granted bail to the Class 9 student.
The juvenile was booked, along with seven other juveniles, for attempt to murder, rioting, snatching, damaging government property and preventing government employees from discharging their duty.
Of the seven, two were discharged from the case by the JJB on February 16 and one was granted bail on February 20.
While granting the bail, principal magistrate Davender Singh said that a perusal of the Class 7 passing certificate of the boy shows that he is a brilliant student and had obtained Grade A in all previous classes. "No useful purpose would be served by keeping the juvenile behind bars. Hence, the juvenile is released on a bail bond of ₹40,000 and one surety of the like sum," he said.
The boy is a Class 9 student of a private school in Ghamroj village and was allegedly on his way to play kabaddi on January 24 when the protests broke out.
Juvenile's lawyer R S Raghav said, "The police have no evidence against the boy and he was not involved in any violence and was on his way to play kabbadi. His final exams are scheduled from March 3 and he has been in the observation home since January 24. He has already suffered a lot due to the police and now he needs to prepare for his exams."
A social investigation report, submitted by Nisha Saini, the legal and probation officer, after talking to family members and neighbours of the juveniles, states that they are innocent and were not involved in the violence on January 24.
Earlier, the JJB had also transferred one "juvenile", who was later identified as an adult, to the Bhondsi jail on February 16. It has also had sought action against officers of the Bhondsi police stattion for arresting a man in connection with the vandalism and producing him before the board as a "minor".
Close