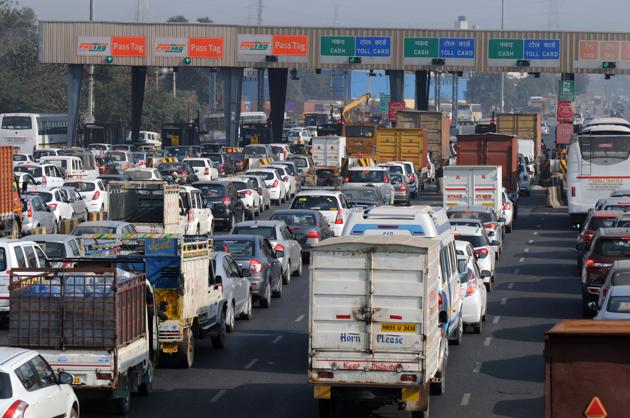 Pay
₹

300 cr to shift Kherki Daula toll: Manesar industrialists to Haryana govt

Gurgaon traders feel the Khwerki Daula Toll plaza is causing huge losses to industries in Manesar and nearby areas

UPDATED ON MAY 01, 2017 11:51 PM IST
Industry representatives from Manesar have suggested to the Haryana government to pay Rs300 crore to the Kherki Daula toll operator through the National Highways Authority of India (NHAI) in order to get the toll plaza shifted.
The industrialists have long been complaining about traffic jams and other problems due to the toll plaza.
Manmohan Gaind, president, Manesar Industries' Welfare Association (MIWA), said, "We have written to Sudhir Rajpal, principal secretary, industry, Haryana, to consider this proposal. We spoke with him in this regard a week ago."
He said the issue was discussed with a senior state government official who told him that the toll generated an average annual income of Rs100 crore for the operator.
"The toll plaza officially has five more years to go as per the agreement, so the total amount for that period stands at Rs500 crore. If the government pays the amount five years in advance, the interest has to be waived off and the remaining amount then stands at around Rs300 crore. This is not a large amount and the Haryana government or the Haryana state industries and infrastructure development corporation (HSIIDC) can easily do it in the larger interest of the people," Gaind said.
Read I Haryana chief secretary to head committee on Kherki Daula Toll removal
Calls and messages to Rajpal for his comment did not yield any results.
The proposal was also discussed with former principal secretary, industry, Devender Singh, who had assured industrialists of conveying the message to NHAI chairman YS Malik endorsing the MIWA suggestion.
Singh was transferred to the aviation department recently. Interacting with industrialists at his farewell function in Gurgaon a few weeks ago, he had assured industry owners in the presence of HSIIDC officials that he would talk to Malik in his personal capacity.
"I am not heading the industry (department), but I have been deeply concerned about this issue and have always felt that the toll plaza should be shifted immediately for smooth growth of industries. The toll plaza's yearly income is roughly the same as expressed by MIWA and theirs is the best solution," Singh had said on the occasion.
Industrialists feel the toll is causing huge losses to industries in Manesar and nearby areas. They have also been thinking of moving the Supreme Court demanding an audit of the toll operator's accounts if they did not get support from the state government.
Close