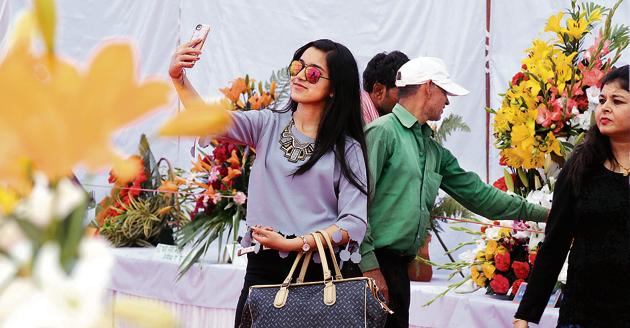 Two-day Huda flower fest opens, dazzling floral display floors visitors
Participants in individual and institutional categories total 800. Huda, which is organising the event, is happy with visitor turnout
UPDATED ON FEB 24, 2018 10:48 PM IST
The two-day flower festival organised by the Haryana Urban Development Authority (Huda) opened with a beautiful cultural performance by a trained artists' group at the Leisure Valley ground in Sector 29 on Saturday.
The fest will conclude on Sunday with prizes being handed out to participants in both the individual and institutional categories.
In the individual category, the Huda has registered nearly 140 participants, while the number of participants across both categories are over 800. The Huda officials said that the response to the event from neighbouring states is encouraging.
Vinay Pratap Singh, deputy commissioner (DC), Gurgaon, inaugurated the flower festival in the presence of Yashpal Yadav, administrator, Huda, Gurgaon and other guests present on the occasion. The top officials took a look at the floral display by individuals as well as institutions.
"I am delighted to grace this beautiful event. This event is unlike any other as it gives visitors an opportunity to be in the midst of some spectacular and horticulture species. This is a god place to enrich our knowledge about plant species which are environment friendly," Singh said, adding that the residents could gather a lot of information about horticulture at this event.
Yashpal Yadav, administrator, Huda, Gurgaon, said, "We try our best to invite participants from all states. Several states from North India are represented at this event and the florists showcase the best of their horticulture at the show. We register a good number of participants every year and are happy that the event gives residents an opportunity to have the rare horticulture species delivered at their doorsteps."
Read I A blooming start to annual flower show
The organisers said that several events are lined up for Sunday and these include dance, drawing, painting and a fashion show competition, among others.
"At the end of the flower show, D Suresh, divisional commissioner, Gurgaon, will give away prizes to the top participants in both categories," Jogiram, executive engineer (EE), Huda horticulture department, Gurgaon, said, adding that the Huda sent invitations to nearly 1,000 participants in both categories to participate in the Flower Fest 2018.
Participants from across the city are showcasing their skills in growing flowers, setting up flower arrangements, bouquet making and aspects related to growing flowers.
Nearly 10,000 people visited the flower show at February 25 and 26, 2017. The event, last year, drew 92 participants in the individual category and over 550 in the institutional category. The Huda has been organising the flower show for the last seventeen years.
Close