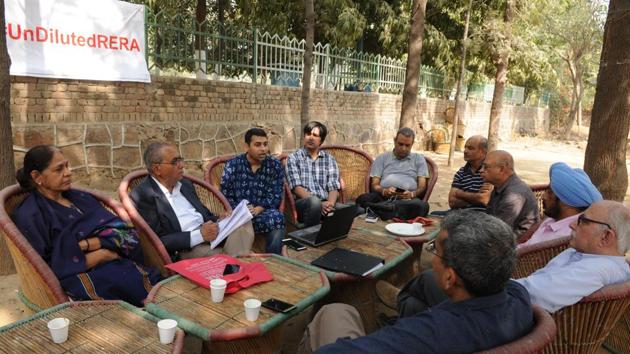 Unsure of positive results from RERA, Gurgaon buyers move high court
he core members of an informal group, UnDiluted RERA, which moved petition in high court held a discussion on Saturday to create awareness that the RERA rules, in the present form, are against homebuyers
PUBLISHED ON FEB 24, 2018 10:32 PM IST
Gurgaon: The city home buyers have moved a writ petition in the Punjab and Haryana high court seeking judicial remedies in Real Estate Regulatory Act (RERA) rules that they believe have been diluted by the Haryana government in larger interest of the developers. The core members of an informal group, UnDiluted RERA, which moved petition in high court held a discussion on Saturday to create awareness that the RERA rules, in the present form, are against homebuyers.
The high court will hear the matter on April 27.
"We have taken plea in the writ that the Haryana government did not implement Central RERA rules that said any real estate project that did not obtain completion certificate (CC) till May 1, 2017, will have to register with RERA authority. This meant projects without a CC in Gurgaon would be treated undergoing and on them RERA era penalty clause would apply. But Haryana government diluted this rule with occupation certificate (OC) all projects that obtained OC or have applied for OCs till July 28 have been kept out of RERA rules. This is a major dilution," said HP Singh the core group member.
Pursuant to the above, core members of the group approached the high court by means of a writ petition for quashing several aspects of the H-RERA. In this regard, more than 1,500 suggestions or representations were shared by different home buyers, associations, RWAs to strengthen RERA in Haryana.
"Our civil writ petition Harinder Pal Singh and Others vs State of Haryana and Others was admitted in the high court on February 20. Notice of motion to the respondents for hearing has been issued. Further, this writ has been tagged with another existing writ filed by Gurgaon Citizens' Council (GCC)," said Amish Tandon, the advocate.
"We have also challenged Haryana Building Code, 2017 (as amended) in as much as it contains a concept of 'deemed occupancy certification' which, as per us, has primarily been utilised by builders to escape the rigours of the RERA Act," said N. Venkataraman, a member.
The buyers said as of now RERA set up hasn't started in full swing — the website is not functional to get information of registered projects and to register complaints. Haryana government implemented RERA rules from July 28, 2017 and that act is meant to regulate real estate disputes.
Close