Wanted: A culture corner for Gurgaon
Although the MCG has earmarked a 10-acre prime plot in Sector 53 to set up a proposed cultural hub, the project is yet to get the green light from the state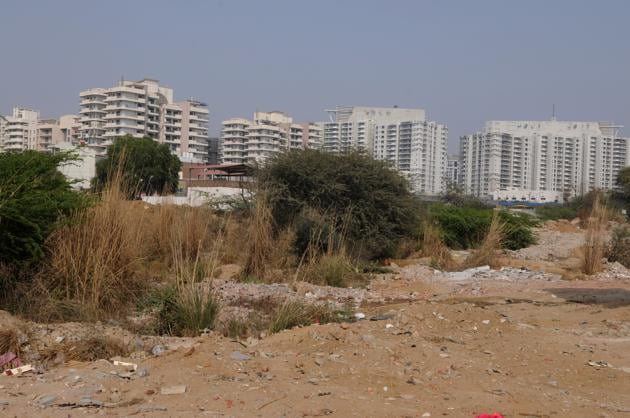 Updated on Feb 17, 2018 10:58 PM IST
The void created after the closure of the city's only cultural centre — Epicentre in Sector 44 — in December 2016 has not been filled yet as a plan to construct a State of the Art complex on the lines of New Delhi's India Habitat Centre is still pending in official files.
The city residents feel deprived of a cultural complex they can spend time at and enjoy their weekend evenings. Epicentre, launched in 2008, hosted exhibitions, plays and cultural interactions, and its closure has left a big vacuum in the city's culture space.
Art lovers and performers in the city have to go to either one of the auditoriums at Mandi House in Delhi — India International Centre or India Habitat Centre — to showcase their talents or spend weekends in the absence of a cultural complex in Gurgaon.
The Municipal Corporation of Gurugram (MCG) had prepared a plan to construct a State of Art Cultural Complex in Gurgaon on the lines of Mandi House in 2012. A consultant was hired, the project blueprint was prepared and a power point presentation was made in the presence of chief minister Manohar Lal Khattar and state art and culture minister Kavita Jain.
Read I Gurgaon's cultural 'Epicentre' signs off for now with Ghalib show
The civic body also earmarked 10 acres prime land at Sector 53 along the Golf Course Road for a proposed cultural complex at an estimated cost of R100 crore. The deadline was set 36 months from the date of awarding the contract for the project. But the project is still awaiting the final nod from the state government.
Yash Handa, an art lover, said, "This is an international city with people from many countries employed in top firms. The city has the potential to become the world's economic centre, as it is home to as many as 300 Fortune 500 companies. All we want is a space for hosting international conventions and conferences and showcasing our rich culture to the world. However, there's no such centre in Gurgaon which would enable us to do cater to the needs of the culturally inclined and aware in the city."
Unfortunately, the Haryana government never gave priority to promote cultural activities by creating spaces for art lovers such as painters, artistes and photographers, he said.
Noted photographer Aditya Arya said, "Haryana government has shown complete disregard for art lovers. Even in the government's criteria for turning Gurgaon into a smart city, there is no mention of a cultural complex at all. This is highly surprising. We book private studious and galleries to showcase our arts. Gurgaon deserves a complex on the lines of Mandi House."
MCG has started holding cultural activities every Saturday in an open theatre at Sector 29, but that is too small a place.
"I want to join acting class that I used to do in college days and did many shows when I was in Delhi. I shifted to Gurgaon ten years ago and I am disappointed with the lack of places such as the National School of Drama (NSD), Federation of Indian Chambers of Commerce and Industry (FICCI) and Kamani. I will be the happiest parson if the government sets up a centre like the NSD in Gurgaon," Vakul Cowshik, a resident of Vatika City in Gurgaon, said.
Residents, too, have raised the demand for a dedicated culture corner in the city on several occasions.
Sanjay Mehta, an artist, said, "It (a cultural centre) is the need of the hour for art lovers in Gurgaon. We are deprived of participation in cultural events unlike artistes from Delhi, UP, Rajasthan, as they have ample spaces to showcase their talents. We have no place to go. We believe a cultural hub in Gurgaon would prove to be a milestone in the time to come."
MCG officials are still waiting for nod from the state government to go ahead with the project.
"We have been working on a project (to set up a cultural centre in Gurgaon). Ten acres have been earmarked in Sector 53 for an auditorium, which can accommodate 2,000 people. It will be equipped with other features such as a theatre, art gallery, sculpture studio, workshop, library, exhibition centre, meeting/media hall, administrative blocks, guest house, cafeteria, dormitory for ladies and gents (40 persons) and a convenient shopping complex. We are waiting for a nod from the government," Sudhir Chauhan, senior town planner (STP) Gurgaon, MCG, said.
Jain said, "The chief minister had recommended some changes to the project after the presentation."
The proposed state-of-the-art cultural complex will also have a library and reading rooms as well.
Features of Cultural Complex:
Cultural complex proposed on 10-acre land in Sector 53
The estimated cost of developing the complex has been pegged at R100 crore
It will have a permissible covered area of 40,000 square metres
It will be a state-of-the-art cultural complex
The deadline for completing the project has been set 36 months from the date of awarding the contract
The complex will have an auditorium that can accommodate 2,000 people
It will also include a theatre, art gallery, sculpture studio, workshop, library, exhibition centre, meeting/media hall, administrative blocks, guest house and a cafeteria
It will also have a dormitory for ladies and gents with a capacity to accommodate 40 people
It will also have a convenient shopping
Close Story