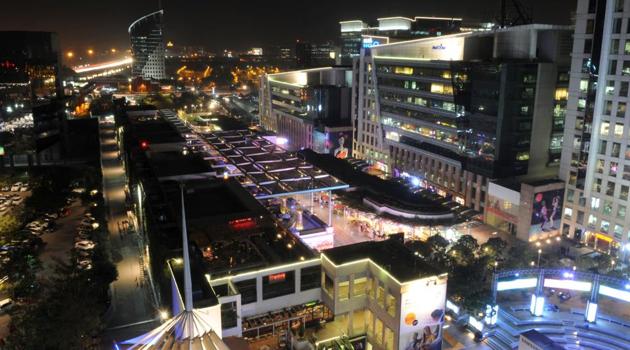 Party goers return with CyberHub back in business
CyberHub is close to national highway 8 and its pubs and bars went dry after the Supreme Court put the distance cap to discourage drink driving, a major cause of fatal road accidents.
Hindustan Times | By Rashpal Singh and Leena Dhankhar
, Gurgaon
UPDATED ON MAY 05, 2017 06:44 PM IST
As the party resumed at the sprawling DLF Cyber Hub on Thursday night, revellers hit the most popular watering holes in Gurgaon. Frequent visitors, who couldn't party for more than a month, rushed to the area immediately after they received the news about resumption of liquor services at the CyberHub.
"I am so thrilled that our place to party is back again. We chill out at CyberHub and are happy with this decision. Touchwood," said Sweety Vani, an entrepreneur.
There were some who did not know about the development and were thrilled to hear about it while strolling through the CyberHub on Thursday and Friday.
"I came with my friends unaware that the liquor ban was lifted for CyberHub. We were supposed to leave for Delhi, but we changed the plan and now will party hard at our favourite place," said Barkha Mukherjee, a regular visitor.
However, the decision has not gone down well with those who feel it has defeated the purpose of the Supreme Court (SC) order.
"Doesn't this amount to sheer mockery of Honourable #SupremeCourt," tweeted @Anirudhch20, a user of the micro blogging site Twitter.
Harman Singh Sidhu, who had petitioned for the liquor ban near highways, too expressed unhappiness at the development. "The saddest part is that the SC orders are being defeated not more than 20 km from the SC building. There was no mention of motorable distance in the order. The entire government machinery is working to defeat the SC order, the dignity of which is at stake," Sidhu told HT.
Pub/bar owners at CyberHub and government authorities had to struggle for a full month to escape the SC ban on sale and serving of liquor within 500 metres of state and national highways.
Owners of 35 watering holes at CyberHub spent sleepless nights as the area is a stone's throw away from National Highway 48 (Delhi-Gurgaon Expressway). Two of the bars had even surrendered their licences as they had lost hope of resuming business, while others persisted.
Things looked bleak as CyberHub seemed to be within 500 metres of the edge of the expressway's service lane, though no measurement was done. On April 1, the excise department ordered a ban on serving liquor at pubs and bars in the area.
As the Haryana government came up with legal advice that motorable distance should be measured, the entry and exit points of CyberHub were changed on April 3 and the distance measured on April 11 came to 1,900 metres. Five-star hotels, including The Leela Ambience, had also changed their entrances to extend the motorable distance.
However, after measurement, CyberHub had to wait as the original layout plan of the area was not submitted by developer DLF to the committee formed for measurement.
Initially, there was confusion about the SC order, but later it was clarified that sale and serving of liquor was not allowed, said Rahul Singh, head of the Haryana chapter of the National Restaurant Association of India. "Then there was confusion about measuring the distance. All this took some time to be clarified and it was a part of the process," he added.
Ashwini Choudhary, director of Soi 7 Group, said they had been living with extreme uncertainty for a month. "We were unsure of what was going to happen. We suffered revenue losses and a number of our staff members were rendered unemployed. But everything turned out fine in the end," said Choudhary, who has outlets at CyberHub and the Sector 29 market. The traders are pegging a month's losses at Rs100 crore.
Pushpa Bector, executive head and vice president, DLF Premium Malls, said, "We are happy that the restaurants have received a confirmation from the excise department to serve liquor at their premises. The immediate customer response is quite delightful."
Close