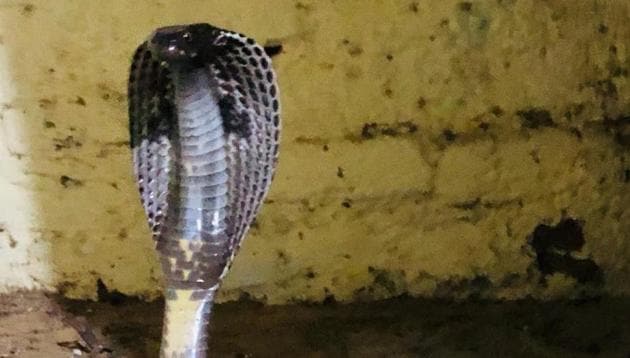 Want to know how to 'handle' snakes? Just leave them alone
There have been more than a dozen snake sightings in Gurugram over the past week. It is important to remember that the reptiles are just out to seek food and shelter, and not to bite you.
By Prerna Singh Bindra
UPDATED ON JUL 17, 2018 02:11 PM IST
It was around 2am when an urgent ring of the doorbell woke me up. It was one of the watchmen of our society, there was a snake and they wondered if I could 'deal with it'. I couldn't deal with it—I am not trained to 'handle' snakes, but what I could do was convince the small, but frenzied, crowd that the creature didn't need any handling at all. It was a common rat snake, as harmless as a sparrow in your garden. A word of caution: Harmless doesn't mean you pick or poke this (or any) snake. Even the non-venomous variety can deliver a nasty, if not fatal, bite if 'handled' or disturbed. I pleaded the crowd to back away, giving the snake room to vanish.
Later, when things had calmed down, we chatted. I understood the fear, but it's extremely important to not panic when you sight a snake, or for that matter any wild creature. Some of the watchmen, who have rural roots, nodded. As is evident from its nomenclature, this snake feeds on rats, and is considered a farmer's friend. It's best to let it be. Also, a snake that is caught and released, even with the best intention, is doomed. Snakes taken out of their territories and relocated stand a very slim chance of survival—almost all die.
In Gurugram, there have been more than a dozen sightings over the past week. Sighting of snakes peaks in the monsoon as they come out seeking shelter when burrows flood and also to sun themselves. It is important to remember that the reptiles are just out to seek food and shelter, and to not bite you or seek revenge as Bollywood would have us believe.
"Chances of coming across a venomous snake are very slim. The species we are likely to encounter are mostly non-venomous—rat snake, red sand boa, common sand boa, python, common wolf snake. Of the 300-odd species found in India, only 10% are venomous, of which the Big-4 are said to be responsible for 90% of all snake bites. Of these, the common cobra and the common krait are what you may spot in Gurugram," says Shaleen Attre, co-founder of IndianSnakes, an initiative to conserve and change people's mindset towards the reptile.
IndianSnakes.org has a field guide app you can download to identify the snake. Take a photograph, but from a safe distance. If you are still not sure of the species, you can use their 24x7 emergency helpline to help identify and, if needed, connect with the nearest rescuer(s). You can also reach out to the forest department or NGOs, such as Wildlife SOS and Umeed, in case the snake, if venomous and in an enclosed space, needs to be removed.
Initial findings of a survey by IndianSnakes show that humans encounter snakes mainly between post-evening and dawn. Snakes mostly bite when people accidentally step on them or put their hands in spaces where they are resting. It perceives this as an attack and retaliates in defence.
Another creature you are likely to encounter in rains are monitor lizards. Like pythons, they may appear scary, but are equally harmless.
The basic principle to follow with any wild animal is not to crowd or disturb it, and give them space to back away. Killing a snake is illegal, all (Indian) wild species are protected under the law. Besides, snakes occupy an important ecological niche as mid-level predators eating crop pests, such as rats and mice.
Your best bet is precaution. I will reiterate the advice we got as children: Move carefully, consciously. Take torches, wear sturdy shoes, especially when moving in dark areas. Remove debris or leaf mounds, seal any cracks or entry points around your home. If you or your help sleep outside, use mosquito nets.
Most wild animals will do their best to avoid humans—not surprising given our notorious reputation.
(Though she lives in Gurugram, the writer is at home in the forests she is committed to protect. Her book, The Vanishing: India's Wildlife Crisis, was released in June 2017)
Topics
Close