Parents on call: When your child has special needs
Hindustan Times |
, New Delhi
Indra Shekhar Singh & Nitija Shastri
Jun 19, 2015 06:33 PM IST
From giving up jobs to giving up social lives, a look at what it takes for parents to care for children with very special needs, particularly in a country with little support infrastructure.
On the face of it, Makrand Koppula, 17, leads a near-normal life. He accompanies his mother to their yoga class every morning. He watches Shin Chan while she makes breakfast. Next, he browses the internet for a while and by lunchtime, loses himself among his paints and brushes. But Makrand can hardly do anything else.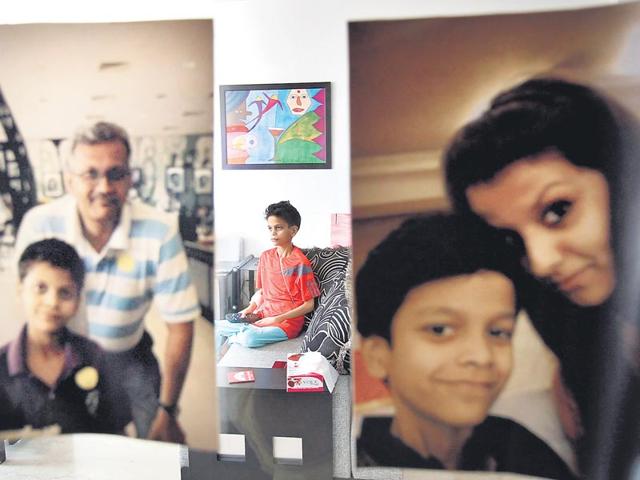 He suffers from Bruton Agammaglobulinemia, a primary immunedeficiency condition that is both rare and incurable. Weakened immunity makes him highly susceptible to infections, which has hurt almost all his vital organs.
Living with one lung and a weak heart, Makrand can't go out. "He can't eat out, travel in public transport or go to school. Despite support from his school, his health forced him to drop out after Class 8," says his mother Arti Koppula, 46. "I have to be very particular about hygiene around him as even the slightest infection can send him to an ICU."
Makrand has cheerfully adapted to his new life and lost himself in painting. "Bright colours such as yellow, red and blue bring me joy. Time flies when I am sketching or painting," he says. He loves painting while watching other children play cricket in the park. "I can't join them, but perhaps one day there will be a cure, and I will," says Makrand. He has already managed to sell 10 paintings, including one for Rs 20,000, at his first art exhibition at the Experimental Arts Gallery at India Habitat Centre, New Delhi.
Watch:
Struggles of living with a primary immunedeficiency condition
PARENTS ON CALL

If Makrand's life has changed, so has his parents'. Both spend as much time with him as they can. Arti, a pharmacist, quit her job to give her son more time. She says she prefers not to seek help from support groups.

"Initially, I reached out to a few groups, but soon found I didn't have the time," she says. "Instead, I go to satsangs (religious meetings). I feel the positive energy heals my son and me. It gives me the strength to get through each day," says Arti.

"But it gets lonely sometimes too," she adds. Another parent faced with similar challenges is Durga Devi, 34, mother of eight-year-old Ratna Singh (name changed). Ratna has autism but her mother doesn't consider her disabled in any way. "It is like an opportunity for my child to experience another reality. Some of the great minds like Newton had autistic tendencies, it's for us as parents to recognise their needs," she says, shrugging.

"Ratna has strong audio-visual abilities and her memory far exceeds her peers. We encourage her to paint and dance. She can imitate dance steps just by watching someone, it's a gift," says her mother.

Over the past years, Ratna has learned basic sentence construction, grammar and analytic abilities. "I can afford special educators, but the government needs to formulate a policy to help children with special needs,' says Durga. "In Jaipur or for that matter in any non-metro, there are hardly any facilities - just one Jaipur school offers classes for children with special needs. The only option is to either shift to a metro or move overseas."

TOUGH CHOICES
The Singh family plans to go abroad to the US, so that Ratna can attend a special school to develop her artistic skills. "I want to give my daughter a platform from which she can choose a life for herself," she says.

Mumbai-based Mala Shah and her husband Rakesh did just that when their premature baby was diagnosed with cerebral palsy. "Shaini had her first convulsion when she was one and didn't speak till she was seven," says Mala, 55, a homemaker.

"Initially, the family was extremely supportive, but as the weeks of physiotherapy and hospital visits stretched into months and years, we realised we were on our own. Our main support has been other parents of children with special needs," says Mala.

When Rakesh suffered losses in his diamond trade business in 2000, the couple sold their 4,000-sq-ft flat on Napean Sea Road to get Shaini treated at the Institute for the Achievement of Human Potential in Philadelphia.

The treatment lasted six years. "It was well worth it," says Mala, smiling. "Shaini's speech improved and she has had no convulsions since she was 11."

Today, Shaini is 21 and has finished school, but she still faces sensory, motor and learning difficulties and is confined to a wheelchair. Their success with their daughter, however, has come at the cost of their social lives. "I go out once or twice a month," says Mala. "Shaini's at a delicate emotional age right now. On one such occasion, I dressed up for a New Year's Eve party and she broke down and sobbed because she couldn't do the same. I cancelled it and stayed with her."

In a society with little space for the differently-abled, Mala also fears for Shaini's future. "I'm afraid of what might happen once we're gone," she says. "Mentally, Shaini is still a teenager. The hardest thing for me right now is finding that balance between protecting her and creating space for her to grow into adulthood."

TREATMENT AT HOME

But not all parents react as positively. Many go into denial, pressurising the child to do better and compete with peers. This leads to frustration and stress not just for the child but also the family.

"Our society is not equipped to deal with children with special needs, which is why the onus of identifying the child's needs and skills falls on the parents," says Dr Samir Parikh, director, mental and behavioural sciences, Fortis Hospitals, Delhi. "This makes it vital that they accept that their child has special needs, whatever it may be, and not blame each other or the situation for it. It's only then that they can plan how best to help their child integrate academically, socially and psychologically," says Parikh.

"We need to treat each child with special needs cautiously. Each child has a physical and mental dispositions and these need to be understood to help them develop their talent," says Dr Mitul Jain, a physician at the All India Institute of Medical Sciences, currently researching on children with special needs. Some schools are doing this, with special educators working closely with children. Some offer an integrated education system, where children attend some classes with their peers and others with special educators who help them update language, logical and analytic skills. "Like all children, they need to learn and grow at their own pace. We as parents should not burden them with our ambitions," says Durga.