Pet care in monsoon
While the showers are a welcome break from the soaring temperatures, the season sometimes turns out to be a dampener for pets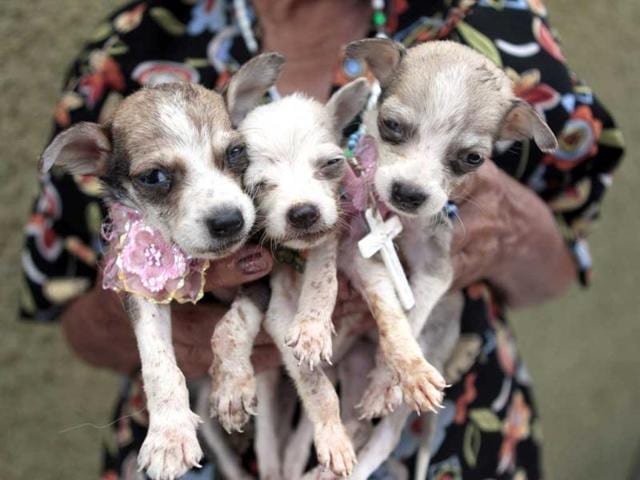 Updated on Jul 30, 2012 01:38 PM IST
Hindustan Times | By Debasmita Ghosh
, New Delhi
While the showers are a welcome break from the soaring temperatures, the season sometimes turns out to be a dampener for pets. Be it your dogs and cats or fish and birds, monsoon is the time when they are often affected with skin infections, digestive disorders, and a host of other health problems.
Furry woes
Humidity is high in the air so the fur, on getting wet, starts smelling badly. Spray medicated talcs and deodorants to tackle this problem. Dr Saurabh Shekhar, national head and specialist pet trade, Mars India, also points out that the foot pads of dogs and cats are found wet when they come back from a walk from outside. "Clean their foot pads with lukewarm water mixed with some anti-septic liquid, and dry the spaces in between their fingers with a towel to avoid fungal infection," he says. Parasites including fleas and ticks tend to attack pets more during the monsoon causing allergies and fever. "Treat your pets regularly with worm medication, and tick and flea treatments in this season," suggests Dr Kallahalli Umesh, Waltham scientific communication manager. "Not just dogs and cats, even birds can experience skin infections and feather loss due to the humidity in the air. Apply topical anti-bacterial lotions such as Spectrozol to combat this," prescribes veterinary specialist Dr Satbir Josan.
Mind the diet
It's best to opt for dry ready-to-eat packaged food instead of regular meat or chicken for your pet during monsoon. "Pets often suffer from gastroenteritis in this weather due to bacterial or viral infections. Meat or chicken bought from the shop is not always fresh and can be contaminated, so it's best to avoid it this season," says Dr Shekhar. Water-borne infections too, are high in monsoon. Ensure to change the water in their pails every two-three hours. If you have an aquarium, don't forget to clean the tank and get rid of all organic materials such as uneaten food and fish waste at least twice a month.
Psychological issues
Thunder can frighten even the calmest of animals. "Some pets even suffer from storm anxiety. Symptoms can range from mild to severe shaking, hiding, biting, and excessive chewing. You can give them anti-anxiety drugs to help ease the stress. But most importantly, hug them, keep them cosy and make them feel comfortable," says Dr Umesh.
Close Story