Junk food and sedentary lifestyle may put teens at high risk of obesity in adulthood
Updated on Mar 01, 2018 11:27 AM IST
A study found that targeting risky behaviours – smoking, drug use, alcohol consumption and lack of exercise – was just as important for teenagers as a balanced diet to stave off obesity in adulthood.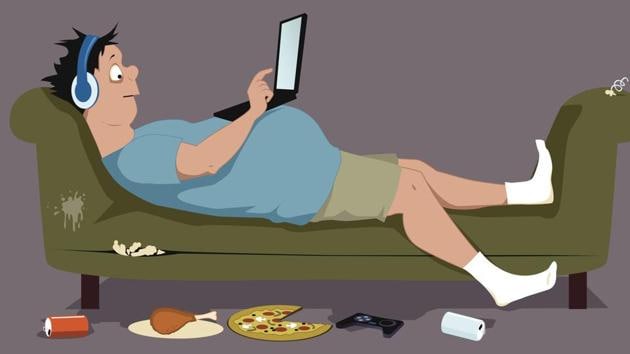 Indo Asian News Service |
Indo Asian News Service
It's not only junk food, but a combination of unhealthy behaviours like sedentary lifestyle in teenagers that increases the risk of being overweight in adulthood, say researchers. They emphasised the need to focus on more than eating habits to combat the obesity epidemic.
The study found that the calorie intake among adolescents has not changed, but habits such as exercising, smoking, drug use and alcohol consumption have increased over time. Therefore, it is important to target these risky behaviours together, and early, before they become habits.
"Adolescents with obesity often maintain their weight status into adulthood, increasing their risk of developing cardiovascular disease, diabetes, and high blood pressure," said Rachel Laxer, doctoral student at the University of Waterloo in Ontario, Canada.
"Public health practitioners should be targeting clusters of risky behaviours using a comprehensive and multi-pronged approach," Laxer added.
For the study, published in Plos One, the research team included school students between 13 to 17 years of age, in grades nine and ten.
Based on their reported behaviour, the teenagers were classified as typical high school athletes, inactive high screen-users ("screenagers"), moderately active substance users, or health conscious.
The results noted that although the four groups saw similar increases to their weight status over the years that they were followed, students in the health conscious group had the healthiest body weight at the beginning of the study.
"Intervening and modifying unhealthy behaviours earlier might have a greater impact than during adolescence. Health promotion strategies targeting higher risk youth as they enter secondary school might be the best way to prevent or delay the onset of obesity, and might have better public health outcomes over the longer term," Laxer said.
Follow @htlifeandstyle for more
Personalise your news feed. Follow trending topics