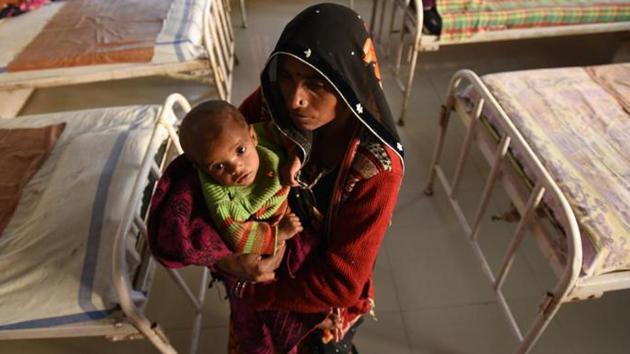 One in 4 urban children under the age of 5 suffer from malnutrition, Delhi tops list: Survey
The survey covered Mumbai, Delhi, Bengaluru, Hyderabad, Ahmedabad, Chennai, Kolkata, Surat, Pune and Jaipur.
PUBLISHED ON FEB 07, 2018 11:31 PM IST
One in four urban children under the age of five is stunted (chronic malnutrition), a survey conducted in 10 of the country's most populous cities has found.
Delhi has the highest percentage of severely stunted children (11.7%), the Urban Hunger and Malnutrition (HUNGaMA) study by not-for-profit Naandi foundation has found. Child obesity is another emerging area of concern, with about 2.4% children in the 10 cities found to be overweight or obese, the report released on Wednesday said.
The highest percentage of overweight children was found in Chennai (3.7%), while the lowest was in Hyderabad (0.7%).
Carried out between April and July 2014, the survey covered Mumbai, Delhi, Bengaluru, Hyderabad, Ahmedabad, Chennai, Kolkata, Surat, Pune and Jaipur. These cities account for 5.3% of India's population and 4.1% of the child population under the age of six. Overall, in the 10 cities, over 22.3% children under the age of five were stunted, 21.4% were underweight and 13.9% were wasted (low weight to height), the report found. According to fourth round of the National Family Health Survey, 2015-16, 38% children under five are stunted and 36% are underweight.
"The study shows India is facing a double burden — under and overnutrition. Though the number of children in urban areas who are stunted is less compared to rural areas, but at 22% it is still a high figure. It highlights that a more concentrated approach involving the family, community, policy makers and private sector is required to address the twin problems of malnutrition and obesity," said Rohini Mukherjee, chief policy officer of Naandi Foundation.
The survey had a sample size of 11,955 households, including 12,286 mothers who were interviewed and 14,616 children aged between 0-59 months who were measured. Among the 10 cities, the proportion of children under five born with low birth weight (less than 2.5kg) was highest in Kolkata (25%). The prevalence of stunting ranged from 14.8% in Chennai to 30.6% in Delhi and was significantly higher among children whose mothers had five years of schooling or less.
Though NHFS-4 data, as compared to the HUNGaMA study, is more recent, the latter gives a more comprehensive view of nutrition status of children in urban India, Mukherjee said.
"Our sampling is based on city limits whereas NHFS-4 data is of district level. That's why there will be discrepancy between figures. Also, in many cases, including Kolkata, the NHFS has done the survey in slums only where the poor live and not across the city. So their figure of percentage of children who are malnourished is far higher. HUNGaMA survey was carried out across the city, covering both rich and poor children," she added.
The HUNGaMA survey, however, has a bigger sample size in the 10 cities as compared to NFHS-4. The sex disaggregated findings for nutrition status showed a very small difference between girls and boys — boys were found to be slightly more malnourished than girls in every measure of malnutrition. The survey also found higher prevalence of malnutrition among children whose mothers had little or no schooling. The prevalence of stunting among children whose mothers had five or less years of schooling was 35.3% compared to 16.7% among those whose mothers completed at least Class 10.
Close