Video: Man ate his 30,000th burger, says his cholesterol and BP are normal
Hindustan Times, New Delhi |
HT Correspondent
May 09, 2018 09:43 PM IST
Don Gorske, a retired prison guard, gobbled down his 30,000 th burger last week. He has eaten almost two burgers a day since 1972 and says his cholesterol and blood pressure are fine.
Don Gorske got a taste of his first Big Mac burger in 1972 and last week the retired prison guard gobbled down his 30,000th burger in the same McDonald's branch.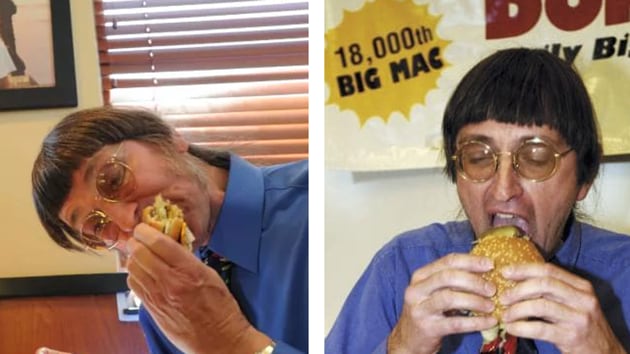 Gorske has been eating an average two burgers every day for the past 46 years and ever since he started, he has only missed eating the Big Mac on eight occasions.
The first non-Big Mac day was during a snowstorm when he arrived at his local McDonald's restaurant to find it closed. Another was when his mother asked him not to eat the burger on the day she died.
"I'm healthy as a horse. I weigh 190 pounds, and my cholesterol is 165," the 64-year-old said.
"People make fun of me, but it never bothered me. I have low cholesterol and my blood pressure is perfect," Gorkse told news.com.au.
"I never had to cook. I had found my perfect food," the Wisconsin man said.
There are 540 calories and 28g of fat in a Big Mac, according to the McDonald's website.
Gorkse made news in October last year when representatives of Guinness Book of World Records came to Fond du Lac to record him eating his 29,482nd Big Mac, an event that was broadcast live on a Facebook feed.
"Don has a passion for Big Macs like no other. He has been an extremely loyal customer at my Military Road McDonald's for more than 45 years and I am excited to celebrate him and his new record," McDonald's Fox Valley's franchise owner DW Rause said.
Gorske even proposed to his wife in a McDonald's car park. He saved thousands of receipts, wrappers and containers, because "people like to see proof" of his consumption. Unfortunately, a lot of his collection was lost in a tornado in 1990, according to news.sky.com.
The Big Mac fan has appeared on "Rachael Ray Show," "Jimmy Kimmel," "Lopez Tonight," "I've Got a Secret," "Oprah" and "Inside Edition." He was also featured in the movie "Supersize Me," according to fdlreporter.com.
McDonald's was more than happy with such a flag-bearer.
"We are lovin' Don Gorske's enthusiasm for our iconic Big Mac sandwich and appreciate his ongoing loyalty," said a McDonald's US spokesperson.
Gorske is now trying to accomplish eating 40,000 burgers but says that it will take him 14 more years.