After a Jean Dujardin repast, a taste of India at Cannes 2019
Village Rockstars drector Rima Das participated in the inauguration of the India Pavilion, which becomes a home away from home for the many Indians at Cannes.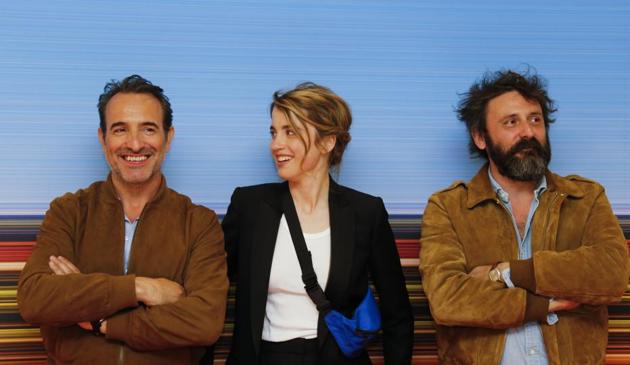 Published on May 16, 2019 11:17 AM IST
Day 3 in Cannes started on an ominous note – it was wet and cold. I trudged at 8.15 to the JW Mariott where the Directors' Fortnight was going to kick off. The Directors' Fortnight is a parallel section to the festival. It was started in 1969 by the French Directors Guild. The Quinzaine, as it is popularly known, has played a key role in shaping the careers of iconic directors such as Pablo Larrain, Atom Egoyan and our very own Anurag Kashyap whose Gangs of Wasseypur had its world premiere here in 2012. This year, the sidebar has a new festival director Paolo Moretti. The opening film was Deerskin by Quentin Dupieux. The film is an intriguing and macabre character study of a man who becomes unusually obsessed with his deerskin jacket. Jean Dujardin (you might remember his Oscar winning performance in The Artist) is hilarious and scary as the unhinged protagonist. In the Q and A after the film, he said that he played the character as completely normal, which is of course why he is even more unnerving. Thankfully, when we emerged from the screening, the sun was shining and Cannes was back to its stunning picture postcard scenery.
I spent some time chatting with filmmaker Rima Das whose story is nothing short of inspiring. Rima came to Mumbai to be an actor but when that didn't work out she taught herself how to make movies. Her second film Village Rockstars put her on the global map. She shot the film over 150 days over three years and became a one-woman crew. She directed, produced, wrote, edited and also handled art direction and costume design. Village Rockstars won 44 awards at film festivals and four National Awards and was selected as India's official entry to the 2019 Oscars. But Rima isn't one to rest on her laurels. Her third film Bulbul Can Sing has already been to the Toronto Film Festival and the Berlin Film Festival.
Rima is a festival veteran so I asked her to give me a lowdown on how indie artists negotiate a giant festival like Cannes. This is Rima's fourth year in Cannes and she's here to watch movies and network. She said the trip is a treat to herself for two years of hard work. Her advice to newbies who come here is that they should spend on getting accommodation closer to the venue. Even though, the closer you are to the Palais, the more you pay, Rima said staying further away becomes a logistical nightmare. She also advised filmmakers to stay focused – 'Don't lose yourself in the frenzy and the glamour. Just keep at it.'
Rima participated in the inauguration of the India Pavilion by Mr. Amit Khare, Secretary, Ministry of Information and Broadcasting. The Pavilion becomes a home away from home for the many Indians at Cannes. I also chatted with Mr. Khare about initiatives to promote India as a shooting destination. And the day ended with another film Monia Chokri's The Woman of My Brother, which opened the Un Certain Regard section.
Tomorrow Priyanka Chopra arrives. Stay tuned.
Author tweets @anupamachopra
Follow her on Instagram @anupama.chopra
Topics
Close Story