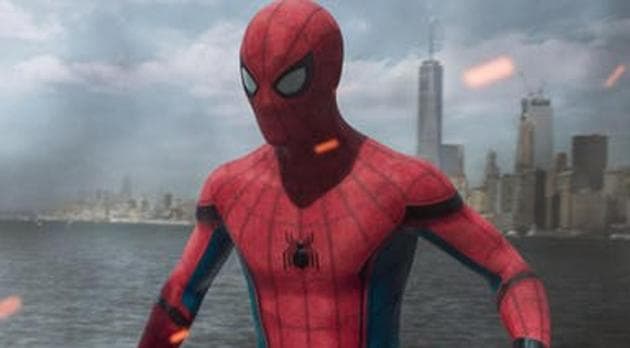 Avengers Infinity War clip | Spider-Man swings into action against Thanos
Tom Holland's Spider-Man swings into action against a giant alien spaceship in a new clip from Avengers: Infinity War. The short clip is also the first time we've heard Alan Silvestri's music for the film.
UPDATED ON APR 07, 2018 02:23 PM IST
A new clip from Avengers: Infinity War, this one featuring Tom Holland's Spider-Man in action, was released online on Friday. While the first clip teased Thor's meeting with the Guardians of the Galaxy, this one is more earthbound.
The 30-second clip gives us a better look at the Spidey scene that has been teased in so many trailers and clips before - the one in which Peter Parker's spidey senses perk up, and he sees an alien spaceship from his schoolbus.
The clip feels right at home with the tone established by Spider-Man: Homecoming - Peter's still a school kid juggling a secret life as a superhero. To escape from the bus and to investigate the spaceship, Peter enlists the help of his pal, Ned, who creates a diversion.
This gives Peter enough time to leap out of the bus, pull his mask over his face, and swing away. It's interesting to note that Peter's still wearing his old Spider-Man suit, and not the Iron Spider one given to him by Tony Stark as an upgrade which we've also seen in the trailers.
Attentive fans would also notice that this is the first time we've heard Alan Silvestri's score for the movie. Silvestri composed the score for the first Avengers movie and the first Captain America movie. He's the man behind the Avengers theme that Marvel has been playing up so prominently in the marketing.
Avengers: Infinity War stars Robert Downey Jr, Josh Brolin, Chris Hemsworth, Chris Evans, Mark Ruffalo, Scarlett Johansson, Jeremy Renner (?), Samuel L Jackson, Chris Pratt, Zoe Saldana, Dave Bautista, Bradley Cooper, Vin Diesel, Don Cheadle, Anthony Mackie, Sebastian Stan, Paul Bettany, Elizabeth Olsen, Tom Holland, Benedict Cumberbatch, Paul Rudd and Tom Hiddleston. It is scheduled for an April 27 release.
You can check out our full Avengers: Infinity War coverage here.
Follow @htshowbiz for more

Close