Here are 6 quintessential Bond moments for your eyes only
Updated on Nov 19, 2015 09:10 PM IST
As Spectre approaches, we look back at those moments that define Bond. From the cavalier delivery of "Bond, James Bond" in Dr No to the careful attention paid to his cuffs in Skyfall, these are moments every fan will appreciate.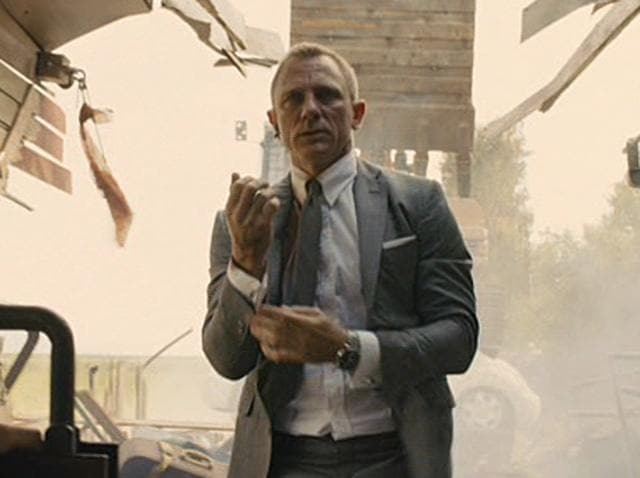 It's a classic James Bond moment. Agent 007, shot in the shoulder, uses a digger machine to catch up with a baddie inside a train. As he jumps through a hole he's created in the roof of a train compartment, he takes a moment to straighten his coat and fix his shirt cuff.
But long before Spectre, the Bond movies have been replete with such moments. Here's a look back at some of the best.
Goldfinger: Bond swims into an enemy hideout in a wetsuit, plants explosives within a silo to destroy it and then unzips the wetsuit to reveal a pristine white dinner jacket. He even pins a rose to the lapel before heading off to a bar for a drink.
Thunderball: Bond decides to step into a club to evade a group of baddies chasing him during the Junkanoo parade. Fiona Volpe, an aide of the villain, joins him on the dance floor. As the music builds to a crescendo, 007 spots an assassin's revolver pointing towards him. At the last moment, he swings Fiona into the line of fire and escapes – once again – without even a scratch on his nicely tailored suit.
On Her Majesty's Secret Service: George Lazenby's sole outing as Bond has become something of a cult classic, garnering fans who think he was the best version of 007. It also had the unusual sight of Bond in a kilt, mingling with the ladies and using gadgets hidden in his sporran to indulge in some spying.
Octopussy: Bond comes sliding down a marble banister, shooting up the bad guys with an AK-47, when he notices a stone decoration that could do serious damage to his manhood. The way he gets rid of the obstruction is classic.
Dr No: And then there's the classic scene that introduced James Bond on the silver screen, summing up everything about 007 – the risk-taking, the fine suits and a liking for the good life. We only see our hero's hands, lighting a cigarette and dealing cards before the camera focuses on his face and Sean Connery utters those magic words for the first time – "Bond, James Bond."
Check out all our James Bond coverage here
License to thrill: 8 of the finest James Bond action scenes
A look at James Bond's most iconic cars
Poll | After Daniel Craig, who should be the next James Bond?
Personalise your news feed. Follow trending topics