Ebola outbreak shouldn't be allowed to affect way of life
Oct 27, 2014 12:56 AM IST
The Ebola epidemic enforces daunting isolation procedures but it should not be allowed to shut down societies, writes David Skinnell.
As the managed services COO and country manager for Sierra Leone, I am responsible for a team of people that plan, build, and operate a mobile network here. Our client, the network operator, is a global player in the telecommunications industry, based in Delhi. My mission here is to run a successful business, but like all business and all people in the country, I experience the effects of the Ebola epidemic. Since I feel the media often "sensationalises" stories for impact, I feel compelled to tell the story from my own personal perspective as a businessman and as a human being living in Sierra Leone.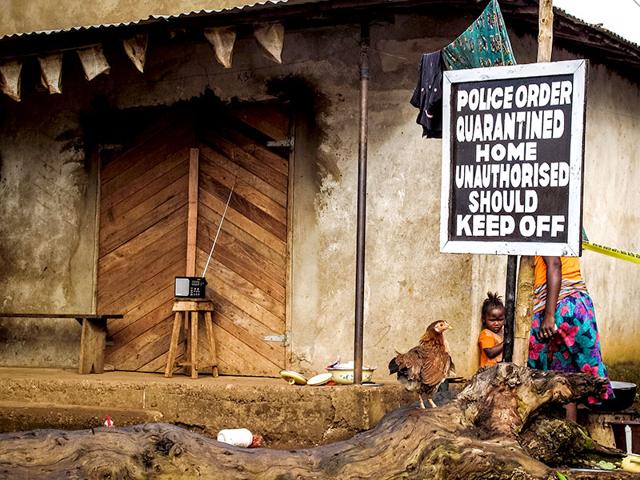 Telecommunications is an essential element of the infrastructure of any country, and as such, Ericsson's business here goes beyond profit and loss. Ericsson's mission of extending the "networked society" throughout the world has become more than just a business here.
We have distributed hygiene supplies such as chlorine tablets, latex gloves, and facemasks to employees and have had a medical professional speak to us in a group session to gain insight into the nature of the disease and how it is spread. In my experience, the best way to fight fear is with knowledge and training.
People need to make a living, feed their families, and do all the normal tasks associated with life. The schools are closed here as a preventive measure, so there are a lot of children around. Life looks normal enough.
There are a few things I don't see though. People no longer shake hands, hug, or deliver the perfunctory kiss on the cheek in greeting. It's still awkward to me.
When I go to a meeting, it's awkward when we don't shake hands in the normal, "ice-breaking", way of making a personal connection before conducting business.
Downtown is still crowded. But where there would normally be jostling and pushing in crowded shop stalls or sidewalks, people manage to keep spaces between them.
This is however different with motorcycle taxis and small passenger buses which are still crowded. It is a way of life here that Ebola may not change.
I have seen news reports on all the major networks and my perception is that the news media tends to focus on the immediate danger. It seems to me that public opinion, as driven by the media, seems to think that as long as it is contained in Africa, it's okay. But my perception is that the news media requires that the hype be maintained in order for the situation to remain newsworthy and to keep resources pouring into the affected countries.
The situation in Sierra Leone is serious. We have been through two "lockdowns". I have seen the number of isolated and quarantined areas increase. I need to make mention of what I believe to be the real heroes here, the healthcare workers. Healthcare workers face the highest risk and have suffered the most of any demographic group. There have been numerous deaths among healthcare workers in Sierra Leone, a country that has a serious shortage of healthcare workers in the best of times.
There is a particularly poignant instance of a tough decision that I had to make. We have a site located on the premises of a major hospital in a quarantined area dedicated to the treatment of Ebola patients. As fate would have it, we have been faced with a number of technical issues there. Our engineer there, who lives and works in the quarantined region, was dispatched to this site several times and each time reported on the conditions at the hospital. Finally I received a call from him. He was disturbed by what he saw on his last visit. Because of the shortage of healthcare workers and the increasing numbers of patients, many of the patients were roaming around the premises unsupervised.
One of the challenges of managing this epidemic is the safe treatment and burial of the (highly contagious) bodies of those who have succumbed to the disease. There are specially trained and equipped teams for this gruesome but necessary activity. While our engineer was on site, he witnessed many bodies being removed from the hospital, and I could tell from his voice that he was highly traumatised by the experience. I told him then that he did not have to return to that site. However, I also have to think about the people that site serves. The reality is that the doctors and administrators at this hospital need to be in touch with their support organisations for various reasons. They need to send and receive data, test results, order supplies, and just generally be in touch. Another sobering fact to consider is that due to the mortality rate of this disease, the majority of the people that enter this hospital will die there. There are no visitors in a quarantined hospital. The patients there are suffering terribly and their last days are lonely.
In my experience, I have seen that disasters bring out the best in people and also the worst. I have seen our people rise to the occasion and keep our business going and keeping commerce moving in the country. I have seen the extraordinary become ordinary and I have renewed faith that this situation will be overcome.
David Skinnell is a telecommunications professional working for the Sweden-based multinational telecommunications provider of communications technology and services, Ericsson, Sierra Leone.
The views expressed by the author are personal.