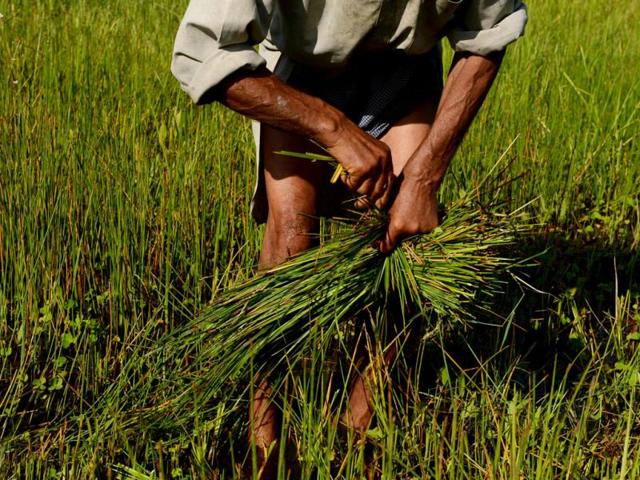 India's WTO stand: The fight is for country's hungry millions
India has come under attack for ditching a pact to facilitate global trade, but New Delhi is far from playing party-pooper, having taken a stand to provide a modicum of decent life to its poor who still often go hungry. Vote:Are Western powers arm-twisting India?
UPDATED ON AUG 01, 2014 07:49 PM IST
India has come under attack for ditching a pact to facilitate global trade, but New Delhi is far from playing party-pooper, having taken a principled stand to provide a modicum of decent life to hundreds of millions of its poor who still often go hungry.

In a nutshell, India is facing flak, mostly from the western world, for holding up the Trade Facilitation Agreement under the World Trade Organisation (WTO). It did so because it wants to first settle the question of flexibility to buy and stock as much food as it wants from its farmers. This is important to ensure the implementation of the Food Security Act.

Current WTO rules cap subsidies to farmers at 10 percent of the total value of farm production based on 1986-88 prices.

India wants the base of calculating food subsidies updated to current price levels, taking into account inflation and currency movements. Otherwise, the government would not be able to provide subsidised food to some 67 percent of its 1.2 billion people it wishes to cover under the food security law.

Read: Why India stood firm at WTO trade talks, what's next

As an alternative, WTO rules allow direct transfer of cash subsidy to farmers and consumers instead of unlimited subsidised procurement and distribution. But India is not in a position to build the financial infrastructure required for this, especially in the countryside, any time soon.

The current negotiations also fail to take into account extraneous factors that affect farm production in India. Much of the farming is dependent on monsoon rains and two years of drought can wipe off any amount of stocks and force India to import, a nightmare scenario keeping in mind requirements under the food security law.

So, for India's hungry millions, New Delhi's refusal to be a free-trade evangelist is more than just geo-economic grandstanding.

Neither is it a parochial, prejudiced stand that undermines India's growing role as a global trading axis.

On the contrary, the entrenched western position on food subsidy betrays a puzzling apathy to the suffering of a quarter of the world's poor who call India home. The current WTO standoff also offers India a chance to lead on behalf of the least developed African economies which may be too scared to speak out against their western donors.

Read: India's refusal to sign WTO deal sends wrong signal, Kerry tells Modi

Western negotiators will have us believe that the benefits of facilitating the pact will accrue to developing nations in form of $1 trillion trade flow and some 20 million jobs. The reality, though, may be different.

As standard setters, the trade facilitation requirements currently being negotiated are skewed in favour of developed countries which will have to hardly spend much on putting together the state-of-art technology and tools required for this.

Predictably, there is little discussion on how developing and least developed countries will fund their trade infrastructure upgrades.

Again, cosmetic changes to customs procedures will not lead to automatic lowering of trade barriers and cost of business, or more chronic growth-busters such as corruption. Current negotiations appear to view trade facilitation more as an end in itself.

But for starters, a reasonable way forward could be an agreement to reset the base price year for subsidy calculation, with a further allowance to developing nations to try and bring down their subsidy levels over a period of 10-15 years.

Unless New Delhi pushes for a permanent solution now, it will fail to bring developed countries to the negotiating table on the issue later, leaving it unable to ensure the equitable development of its population.
(Views expressed by the author are personal)
Close