Netaji Bose vs Nehru: Political rivalry or historical myth?
As the row over the snooping on Netaji's family over two decades develops with new twists, the one question that keeps comes up is: Why, even after so many decades, all that we hear about Netaji is nothing but controversy?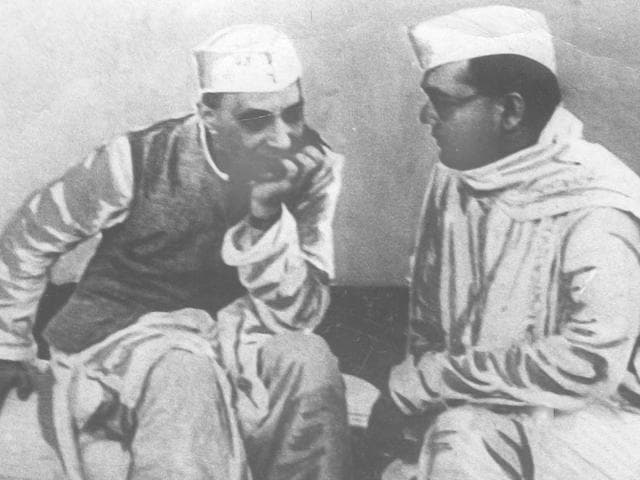 Updated on Apr 15, 2015 02:27 PM IST
My 75-year-old maternal grandmother, who migrated to Assam from the then East Bengal just before Partition, adheres to a strange custom.
Every year on Netaji Subhas Chandra Bose's birthday – January 23rd – she stands in front of a framed portrait of his that hangs in the drawing room, blows the conch shell and puts paste of sandalwood on his forehead. Closing her eyes, she prays for him, wherever he is.
Such piety had bewildered me since childhood. Finally, when I asked her about it recently, she said, "Not only me, many of my generation grew up understanding that it was Subhas Bose who freed this country from the British, and for that we must be eternally grateful to him.
"It is unjust that the Nehru-Gandhi narrative always takes away the entire credit," she added.
The history of Indian freedom struggle is, obviously, not as simple as my grandmother believes. To claim that any single party or leader was responsible for the liberation is nothing but absurd appropriation.
Nonetheless, her comments reflected how many Indians – who lived through 1947 and its joys and horrors – perceive Netaji's contribution in the freedom struggle and smell a rat in the popular Indian National Congress-dominated narrative.
For instance, my grandmother's words (and of many other Indians, probably) strongly echo what Netaji's nephew Sisir Bose wrote to the freedom fighter's wife, Emilie Schenkl, in 1955: "If you were in India today, you would get the feeling that in India's struggle two men mattered – Gandhi and Nehru. The rest were just extras."
Such an impression – a fighter walking out of the Congress to wage a war of his own against the British Empire by seeking help from countries such as Germany and Japan, and not receiving the deserved appreciation – perhaps carves out a unique place for Netaji in the minds of his followers.
As the row over the snooping on Netaji's family over two decades
, the one question that comes up is: Why, even after so many decades, all that we hear about Netaji is nothing but controversy? What makes the man so enigmatic that 70 years after his reported death in a plane crash, his life continues to provide fodder for investigators and conspiracy theorists?
"Is Netaji actually a controversial figure? No, he is not. The media is making him look like one," said historian Rudrangshu Mukherjee, the author of Nehru and Bose: Parallel Lives.
Then what about, for example, the differences that arose between Mahatma Gandhi and Netaji at the 1939 Tripuri Congress session that ultimately lead to Netaji's resignation from the party? Or Netaji's admiration for the fascist regime of Mussolini and his belief in "authoritarian rule to achieve radical change"? What about Jawaharlal Nehru becoming critical of Bose for the latter approaching fascist regimes like Germany and Japan?
"Those were the politics and controversies of that time, nothing to do with that of today. Today what we need is a proper historical assessment of the personality and the complete declassification of all secret files," said Mukherjee.
Irrespective of the intellectual discourse, the above points regarding Netaji's politics bounced back in perspective after declassified documents revealing the snooping on Bose's family from1948 to 1968 made it to the headlines last week. And many commentators stoked the controversy by questioning the differences between the Nehru-Gandhi duo and Netaji, indicating a possible motive for the snooping.
The most obvious question which arose was what must have led the Congress government to spy on the Bose family?
While there is no evidence to suggest that Nehru had demanded the snooping, a certain class of the intelligentsia seems to have taken that for granted.
Commentators like BJP national spokesperson MJ Akbar have argued that the snooping was carried out because the government was scared that Netaji was alive and might return. And if he indeed returned, there would have been major political consequences for Nehru's government.
"It is safe to say that if Bose were alive, the coalition that defeated the Congress in 1977 would have trounced Congress in the 1962 general election, or 15 years earlier," Akbar told the media.
But before jumping on the bandwagon, Mridula Mukherjee, professor of history in Jawaharlal Nehru University, said we must consider all the possibilities and not just rake up a controversy about the Nehru-Bose rivalry.
"We have no idea as of now as to who ordered the snooping and why was it done. All we can do is guess," she said.
"We need to know whether the surveillance was a routine government job that got carried over into Indian hands after the British left, because bureaucratic processes often take a long time to stop something. On the other hand, the snooping could have also been a part of the overall surveillance on left-wing political parties and leaders in the late 1950s and 1960s – since Amiya Bose (one of Netaji's nephews who was spied on) was a prominent leader of the Left in Bengal politics in the 1960s," she added.
"Who knows even Bidhan Chandra Roy, the then chief minister of West Bengal, might have ordered the snooping."
Rudrangshu Mukherjee,
in an analysis in The Telegraph
, logically counteracted the possibility of Nehru's apprehensions over Bose's return, noting that "by 1946, the ideological differences that Nehru had had with Bose when the latter had joined the Axis Powers had disappeared".
Much of the enigma surrounding Netaji germinates from the fact that the officially accepted version of his death is still disputed. The NDA government's refusal to declassify all files related to Netaji's death last year on the ground that the move would "prejudicially affect relations with foreign countries" added to the effect.
Moreover, reports stating that many in the Bose family
about Netaji's death in a 1945 plane crash raised serious questions about the incident.
With more than 150 "secret" government files containing crucial information regarding Netaji's death locked up, nothing can possibly be said with certainty about his reported death.
Anuj Dhar, author of India's Biggest Cover-up, who has been pivotal in bringing declassified documents on Netaji to public light, is convinced that the snooping occurred because Nehru was scared about Netaji's return.
"Intelligence agencies can never be worried about the past, they are concerned with the present and future. The Congress-led Indian government was fully aware that Subhas Bose was not dead. They were worried that he might come back. That's why they spied upon his family," said Dhar.
There is a lot more to Netaji than the sensationalism of sporadic controversies. And the first step towards knowing him better is perhaps demanding the complete declassification of all files related to him.
As Dhar puts it, "When the uncovering of only two declassified files can lead to so many questions, imagine what will happen when the entire treasure trove of secret Netaji files will be out in public?"
(The views expressed by the writer are personal. Tweet to him
)
Close Story
Personalise your news feed. Follow trending topics