Pakistan-India relations: a little warmth is all it takes
Updated on Jun 24, 2014 11:08 AM IST
The Pakistani team in Delhi was confused about how to react, given the warmth of the Modi-Sharif meeting. It's in India's interests to build better ties with Pakistan, but it must give Nawaz Sharif more room for manoeuvre, writes Aakar Patel.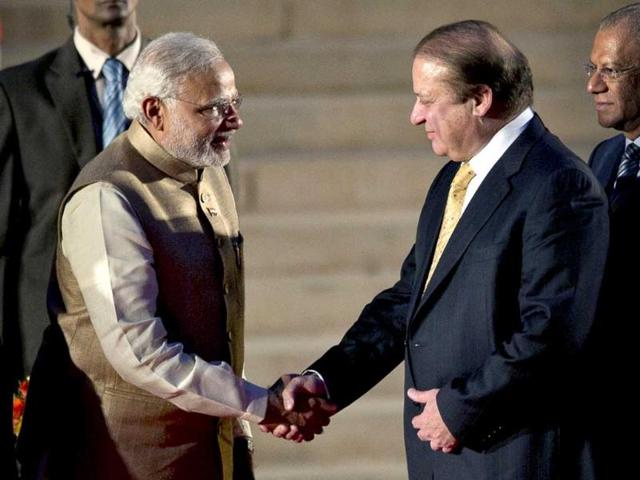 Hindustan Times |
Aakar Patel
The Pakistani newspaper I write a column for is The Express Tribune. Partnered with the New York Times and owned by a Gujarati family from Karachi it is one of Pakistan's most liberal dailies. It can be relied upon to put a positive spin on India-Pakistan relations.
However its lead headline on May 28, reporting the meeting of the two prime ministers read: "At courtesy call, India gives PM 'show cause'." The strap read: "Modi calls for dismantling of terror infrastructure, trial of Mumbai suspects; central issues of Kashmir, Siachen, Sir Creek skipped."
The Daily Times, another liberal daily founded by Salmaan Taseer, the brave Punjab governor gunned down by a fanatic, said: "'Do more!' Modi tells Nawaz."
I was in Pakistan this month and this idea that India had humiliated Sharif on an occasion where he had sought to reach out is widespread.
One Pakistani present when Prime Minister Narendra Modi met Nawaz Sharif told me that it had in fact been warm and cordial. There was no specific mention by Modi of Pakistan-based terror groups and no reference to the Mumbai trial. Modi instead spoke in general terms about "violence in the neighbourhood", he said.
It therefore surprised the delegation when foreign secretary Sujatha Singh "read out the royt act" (in the colourful accent of a Lahore general I spoke to) at her briefing. It is inescapably true that India gave Pakistan a different treatment than it did its other neighbours if we were to consult the text of Singh's cringe-inducing briefing. The mention of every country, except Pakistan, was prefaced by remarks about shared culture and interests.
For instance, Modi said India and Bhutan had "long standing historical and cultural linkages". With Mauritius there was shared "history, common ancestry and kinship". Nepal was a country "with whom Indian shared history, geography and ancient civilisational ties". Even with Bangladesh, India had "shared struggle, history, culture and language".
Pakistan got no such love and Singh immediately launched into the business end of things: "In his meeting with Prime Minister Nawaz Sharif, PM underlined our concerns relating to terrorism. It was conveyed that Pakistan must abide by its commitment to prevent its territory or territory under its control from being used for terrorism against India."
The Pakistani team in Delhi was confused about how to react, given the warmth of the Modi-Sharif meeting. After a huddle with his advisers, Sharif put out a positive statement that ignored Singh's briefing and instead stressed that the countries would have to turn confrontation into co-operation. "Tasaddum ko taawun mein badalna hoga" as the ultra-nationalist Nawa-e-Waqt put it.
Was there occasion to have used a ceremonial event, the swearing-in of a prime minister and his first meeting with his counterpart, for a public reprimand? We should consider that.
It is not appreciated here how much damage Sharif has sustained by the manner in which Pakistan was treated. Those headlines above are from the liberal end of the spectrum. In the Urdu papers, Sharif got thrashed for receiving which was seen as a schoolboy's scolding from principal Modi.
This was stressed at a conference in Islamabad I attended, hosted by the Regional Peace Institute and the Hanns Seidel Foundation, a group that included former Cabinet ministers and ambassadors from India. On the Pakistani side there were two retired ISI chiefs, a former foreign minister and a former finance minister.
The Pakistanis were agreed on a few things, and readers should consider the clarity with which these were expressed: First, that Jammu & Kashmir was a complex issue which, though it needed to be addressed, would not be resolved under a deadline or indeed anytime soon. Second, that what they wanted from India above all was respect, politeness and treatment as an equal. Third, that trade was vital and progress on it should proceed faster than on other issues. Fourth, that terrorism was against the interests of both countries. Fifth, that the Pakistani army didn't stand in the way of peace.
It is of course absolutely necessary that Pakistan put a lid on terror groups attacking India. And we should continue to pressure Pakistan on this front.
However, we must also acknowledge the fact that terrorism in India of the Islamist variety is at its lowest point in our history. It peaked in 2001 when in Jammu & Kashmir alone 4,507 people were killed. Violence has dropped every year since, and the last two years have been the most peaceful since the 1980s. This year, with 63 deaths so far, will likely be our least violent in 25 years. Outside J&K, Islamist violence is all but zero (one death so far this year).
In Pakistan, on the other hand, as the army has acted against militancy, violence has gone up and peaked in 2011 with 11,704 deaths. This year it will again soar, given the operations in North Waziristan.
One ISI general said India had not considered at what cost it had been given peace. Of course Pakistan was responsible for much of the violence in the first place. But it is in our interests now to build on this peace that exists on the ground, instead of insisting that the conditions are bad when they are clearly not.
Sharif says he doesn't care what hardliners think and will plough ahead on relations with India. But there is only so far he can go in the absence of Indian reciprocity.
Sharif's team is still waiting for word from India on when the foreign secretaries will meet, as Singh said they would. Prime Minister Modi will do well to immediately move on that.
Aakar Patel is a former Gujarati newspaper editor and a columnist for Mint
The views expressed by the author are personal
Personalise your news feed. Follow trending topics