12 more Rohingya victims of trafficking rescued in Mizoram
Rohingya activists in India and Malaysia say both the desperate refugees and the traffickers are using the India-Myanmar border crossings in Manipur and Mizoram for the "high risk" journey to Myanmar and further on to Thailand and Malaysia.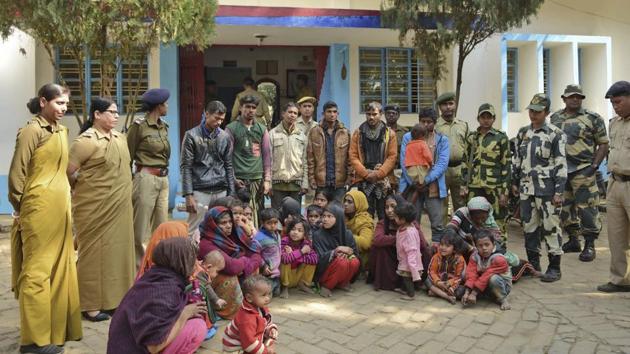 Updated on May 15, 2019 03:49 PM IST
Hindustan Times, Guwahati |
Sadiq Naqvi
Mizoram police on Monday said they have rescued a group of 12 Rohingyas who were allegedly being trafficked. The police said it is only the second incident of Rohingyas being caught in Mizoram and comes less than two weeks after a group of Rohingya women were apprehended on the Assam-Mizoram border.
Rohingya activists in India and Malaysia say both the desperate refugees and the traffickers are using the India-Myanmar border crossings in Manipur and Mizoram undertake the "high risk" journey to Myanmar and further on to Thailand and Malaysia.
On Sunday, a group of 12 persons including 8 women were rescued from a house in Aizawl, deputy inspector general of police, Lalbiakthanga Khangte said.
"They are victims of trafficking. We don't understand their language. They don't speak Hindi or Bengali. We suspect them to be Rohingya. Some of them said they were in a camp in Bangladesh. They arrived in Aizawl yesterday," said Khangte.
A senior police official involved in the investigations said the police has arrested the lady who sheltered the 12 persons who were being trafficked.
"She claims that she would keep groups of people on the insistence of a relative in Myanmar who requested her to keep them for a night. This was not the first instance," he said.
The group has been handed over to the Social Welfare department. "They will get in touch with the respective authorities for further action," Khangte said.
In late April, a group of eight Rohingya women were apprehended in Vairengte, the Assam-Mizoram border town in Kolasib district at midnight. The group did not have the Inner Line Permit.
Vanlalfaka Ralte, Superintendent of Police, Kolasib said the group of women are in the age group of 18-22. "We suspect they were being trafficked. They claimed they were on their way to Malaysia and had recently arrived in Assam from Bangladesh before they entered Mizoram," he said.
Ralte said the police are still looking for the person in Aizawl who arranged the vehicle in which they were travelling.
The group is currently housed in the premises of the police station in Vairengte after a local court sentenced them to one day imprisonment for violating the Foreigners Act. "They did not even have a change of clothes or other essentials. We are looking after them," Ralte said.
Mizoram, despite being a border state does not have a detention centre to keep foreigners pending repatriation. Other Myanmar nationals who are apprehended by the police for violating Foreigners Act are pushed back to Myanmar, officials said.
"We are in the process of notifying a detention centre," said Balaji Srivastava, Director General of Police, Mizoram. Mizoram officials are also in touch with their counterparts in Assam to transfer the Rohingya women to the detention centre in Silchar.
In 2018, Manipur police had apprehended multiple Rohingya Muslims including from the border town of Moreh and also arrested traffickers.
According to a Rohingya man who currently lives in Malaysia and works for an international agency said border towns in Manipur and Mizoram are being used as a route to cross over to Myanmar and further on to Malaysia and Thailand.
"There are agents in India, Myanmar, Thailand and Malaysia who facilitate this," he said speaking on condition of anonymity, recounting his own journey from India about a year ago where he first travelled to Imphal, lived a few days in Moreh before crossing over to Myanmar hidden in a truck.
The journey to Malaysia by road took him over a month and cost him about ₹1.5 lakh. "There are others who even pay ₹2 lakh or more for the journey and there are those who are trafficked," he said recounting the risk.
"You may get caught by the authorities in Myanmar who will send you back to a prison in Rakhine state and then there are hundreds who end up in detention in Malaysia and Thailand," he said.
Sabber Kyaw Min, a Rohingya activist in India said many refugees in Bangladesh fear being repatriated to Myanmar after an agreement between the two countries.
"The Bangladesh authorities have increased security so the journey to Malaysia by boat has become difficult," he said.
According to Sabber, several women are travelling to Malaysia to marry while others are being trafficked. "A Rohingya in Malaysia cannot marry a local. They have to marry within the community. Also, the community is in such dire straits that people are always vulnerable to being trafficked," he said claiming he has been in touch with families of persons who were on their way to Malaysia from Bangladesh via India and have ended up in detention in India and Malaysia earlier.
Srivastava said the two incidents offer a chance to investigate the network. "We cannot say for sure that it is a new route since there are just two cases in Mizoram. But there may be conduits on both sides, in India and in Myanmar. We have to find them and disrupt this," he said.
Lalmachhuana, general secretary of the Central Young Mizo Association, a powerful NGO which has its members among all sections of the Mizo society, said the recent incidents where Nepalese and a few Rohingyas have been rescued in Mizoram is a clear indication that Mizoram is being used as a trafficking route.
"Our local units both in Vairengte and in Champhai on the border with Mizoram have informed us that people are being trafficked to Myanmar," he said adding that the NGO has appointed a six-member committee headed by him to investigate the incidents.
Close Story
Personalise your news feed. Follow trending topics