Protest march held in J&K amid attacks on civilians
Oct 09, 2021 02:06 AM IST
People gathered at Satinder Kour's residence in Aloochi Bagh area and took out a protest march, carrying her mortal remains on a stretcher.
Hundreds of Sikh community members in the Eidgah area of Srinagar on Friday held a protest march with the mortal remains of Government Boys Higher Secondary school principal Satinder Kour, who was shot dead, along with her colleague Deepak Chand, by terrorists a day ago.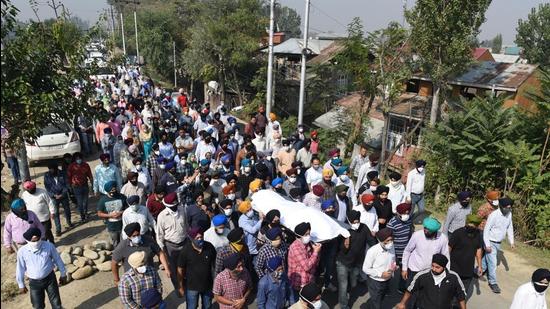 People gathered at Kour's residence in Aloochi Bagh area and took out a protest march, carrying her mortal remains on a stretcher. The march continued till Jehangir Chowk as protesters, both old and young alike, chanted slogans demanding justice for the victim. Sikhs currently form less than 1% of the population in Kashmir.
Stay tuned with breaking news on HT Channel on Facebook.
Join Now
The police tried to persuade the protesters to stop their march but in vain. The community members marched towards the Civil Secretariat, the seat of the Jammu and Kashmir government, and held a silent sit-in there.
"Our demand is to identify the killers and there should be adequate protection given to people belonging to the minority community. This isn't the first incident where people from the minority community have been killed..," Pardeep Singh, one of the protesters, said.
Later, the family of the deceased performed the final rites at a cremation ground in Karan Nagar area.
On Thursday, Kour and Chand, who was a teacher at the school, were shot dead at 11.15 am inside the premises by terrorists. The Resistance Front (TRF), which police say is the front for terror group Lashkar-e-Taiba, claimed responsibility for the attack and said the teachers were killed for their role in getting students to participate in a "function at school on August 15", India's independence day.
Two former chief ministers, Mehbooba Mufti and Omar Abdullah, also visited Kour's residence on Friday.
Abdullah said the recent killings are meant to create a wedge between communities in Kashmir. "The attacks are taking place back-to-back and no one feels secure here today. The Muslims here have also been targeted, Kashmiri Pandits and Sikh brethren also. They do not feel safe. This is no time for politics, and I have not come here for politics, but it is the responsibility of the rulers to make people understand where the failure lies," he said.
Mufti alleged that the wrong measures taken by the BJP-led central government were responsible for the "worsening" situation in the Union Territory. "The situation is worsening day by day and the BJP government is responsible for it. Its wrong steps and measures taken since August 5, 2019, (abrogation of Article 370) and before that as well, are directly responsible for the fast worsening situation in Kashmir," she said.
The mortal remains of Chand were consigned to flames at Shakti Nagar cremation ground.
"My husband was brave....he never wanted us to get scared.....even if he came across something disturbing, he would never share anything with us. Just bring him back to me and my daughter. Can the government bring him back?" his wife Anuradha said.
Bharatiya Janata Party J&K chief Ravinder Raina, who also attended the final rites, said: "The developments following the abrogation of special status did not go down well with the Pakistani terrorists… the accused will not be spared."
28 civilians killed in Valley this year: Police
Meanwhile, Jammu and Kashmir Police said a total of 28 civilians have been killed by terrorists in the Valley this year. Of the total, at least seven of them have been killed since Tuesday, they added.
"Out of 28, five persons belong to Hindu/Sikh community and two non-local Hindu labourers," inspector general (Kashmir) Vijay Kumar said in a statement.
Kumar said due to the killings of a large number of terrorists of all outfits, especially their leadership, and the destruction of their support systems, the Pakistan-based handlers of the terrorists have got frustrated and changed their strategy. They have started targeting unarmed policemen, politicians and innocent civilians from minority communities, including women.
"In all such cases, terrorists have been using pistols. These acts are committed by newly recruited terrorists or those who are about to join the terrorist's rank. In some cases, OGWs (overground workers) have been found directly involved." Kumar said.
"We have received several leads and are working on them. We have also been launching operations along with security forces. We appeal to the general public, especially minority communities, not to panic. We have been maintaining peace and a secured environment and will continue to do so," he added.