₹

35,000 crore allocated for India's net zero transition by 2070: FM Sitharaman

Feb 01, 2023 01:22 PM IST
Sitharaman provided a separate category titled "green growth" in the union budget which captures India's vision for energy transition and sustainable growth
Union finance minister Nirmala Sitharaman allocated ₹35,000 crore in the union budget for priority capital investment towards energy transition and achieving India's goal of net zero emissions by 2070 on Wednesday.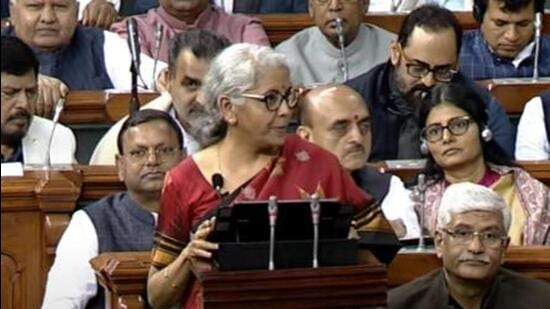 Sitharaman provided a separate category titled "green growth" in the union budget which captures India's vision for energy transition and sustainable growth.
"Green industrial transition in India will mainly be supported by the Green Hydrogen Mission with a financial outlay of ₹19,700 crore," she said.
The Centre had approved the National Green Hydrogen Mission on January 4 this year.
Also Read: Union Cabinet approves ₹19,744 crore for National Green Hydrogen Mission
With a production target of 5 MMT by 2030, this mission will reduce India's fossil fuel imports.
Sitharaman said green hydrogen is a 'sunrise' sector for India. Battery energy storage facilities with capacity of more than 4000 MWH will be supported with viability gap funding.
Renewable energy evacuation system and grid integration will be supported.
Sitharaman said evacuation of 13 GW of renewable energy from Ladakh will be supported by funding of around ₹20,300 crore.
To encourage environmentally sustainable behaviour, a green credit programme will be notified under the environment protection act which is expected to encourage companies, individuals and local bodies in taking up sustainable programmes and make funding available for such schemes.
A scheme titled PM Pranam will also be launched to incentivise states and UTs to promote alternative fertilisers.
"A 'Gobardhan' scheme will encourage 500 waste-to-wealth centres including 200 bio compressed gas plants," Sitharaman said.
In due course, a 5% CBG mandate will be introduced for all organisations to promote compressed biogas (CBG).
Over the next three years, the Centre will facilitate 1 crore farmers to adopt natural farming which will be supported by 10,000 bio-input centres.
Sitharaman also announced a mangrove plantation scheme along coastline and saltpans through convergence of the 100-day work scheme under Mahatma Gandhi National Rural Employment Guarantee Act 2005 (MGNREGA) and with compensatory afforestation or CAMPA funds.
A scheme called Amrit Darohar will be introduced through which local communities can use their unique conservation values to encourage optimal use of wetlands and income generation for local communities. Coastal shipping will be promoted as efficient transport through viability gap funding.
India remains steadfast on achieving its global commitments on climate change and energy transition, the Economic Survey 2022-23 had said on Tuesday.
Referring to projections from the Central Electricity Authority (CEA), the Economic Survey said the likely installed capacity by 2029-30 is expected to be more than 800 GW of which 500 GW will be non-fossil fuel based.
The average carbon dioxide emission rate is also expected to decline by around 29% by 2029-30 compared to 2014-15 owing to energy transition in India, the document said.
"India is spearheading one of the world's most ambitious clean energy transitions and remains steadfast in its commitment to combating climate change. Despite the adverse impacts of Covid-19 on the economy, India has enhanced its climate ambition manifold," the survey in its chapter titled "Climate Change and Environment" Preparing to Face the Future" stated.