90 infants die at Banswara hospital in 2 months, Rajasthan govt orders probe
Press Trust of India, Jaipur |
Press Trust of India
Sep 01, 2017 10:14 PM IST
The casualties were reported from the sick newborn care unit (SNCU) of the hospital in Banswara.
At least 90 infants have died at the MG Hospital in Banswara district of Rajasthan in the last two months, prompting the state government to order an inquiry.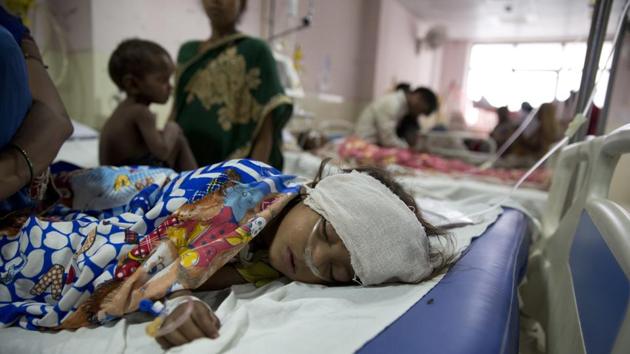 Health Minister Kalicharan Saraf formed a three-member committee, headed by Dr SM Mittal, on Thursday to probe the matter and file a report within three days.
"The district hospital recorded the deaths of 90 newborns in July and August," Chief Medical and Health Officer, Banswara, Dr HL Tabiyar told PTI.
He said several of them died due to birth asphyxia but exact number of those who perished because of this reason will be known after investigation.
Birth asphyxia is a medical condition resulting from deprivation of oxygen to a newborn during the birth process.
The casualties were reported from the sick newborn care unit (SNCU) of the hospital in Banswara, which is nearly 500 km from the state capital Jaipur.
According to MG hospital's report, from 20 deaths at the SNCU ward in April and 18 in May, the figure rose to 26 in June, 50 in July but downed to 40 in August.
The report also shows that the number of deaths of underweight children, too, has increased significantly-- from 6 in April and 4 in May to 14 in July and 20 in August.
District collector Bhagwati Prasad Kalal said of the total number of deaths "40 to 45% occurred due to asphyxia but exact number of asphyxia deaths is yet to be ascertained".
The report comes close on the hills of death of dozens of children at a government hospital in Uttar Pradesh's Gorakhpur amid allegations that the newborns had died due to snapped oxygen supply over unpaid bills.
"It is not (like the) Gorakhpur case. We have launched Pukar Programme in the district on July 12 to encourage pregnant tribal women to undergo proper treatment," he added.
"Several complicated cases of tribals living in far-flung areas come to the hospital due to the initiative and we have saved newborn and mothers. Such deaths go unreported otherwise. 94% institutional deliveries occur in Banswara, but 6% is a huge number," he said.