A wait that knows no end: The plight of missing Alzheimer's patients' kin
Oct 21, 2018 07:08 AM IST
A look at the endless wait for the hundreds of families, whose relatives with memory loss left home to never return again.
It was the evening of September 5, 1995, and 65-year-old Srikanth Sharma was watching television in the living room; his daughter Neelanjana had stepped into the kitchen to check on their maid's work.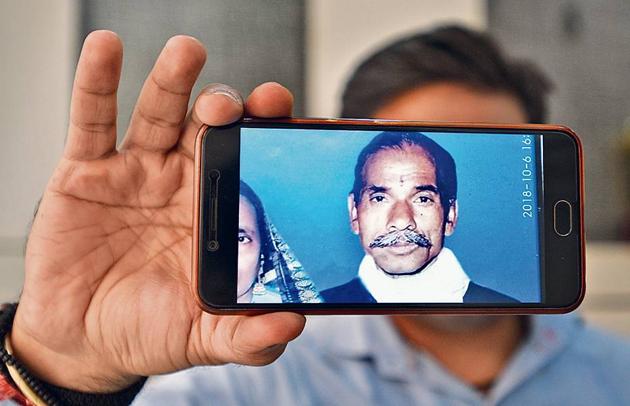 Around 15 minutes later, when she returned to give her father his evening cup of tea, she found him missing. Their television set was still playing a re-run of the 1990s hit show 'Dekh Bhai Dekh', and the main door was open.
Two years before he left home never to be seen again, Sharma had been diagnosed with Alzheimer's, a brain disease that causes a slow decline in memory, thinking and reasoning skills.
Twenty-three years after his disappearance, the details of that evening, when she saw him for the last time, are still vivid in his daughter's memory. Neelanjana remembers running to the gate of her Tilak Nagar residence, wearing a torn salwar kameez that she had been wearing at home. She alerted the only security guard manning their colony's gates, and then she went around asking neighbours if they had seen her father.
"I alerted the local shopkeepers and the residents of our colony, in case anyone saw him. Even today I blame myself for having left him alone in the room," said Neelanjana, who still finds it difficult to accept that her father might never return.
Delhi police records narrate the endless wait of several such families, whose relatives, diagnosed with memory loss, left home and never returned. Some families have been lucky to have their folks return, others continue to wait. According to Delhi police, one in every four calls received by the department everyday of senior citizens missing in the city was of a patient suffering from memory-related ailments.
Although a comprehensive study of such cases is yet to be carried out in India, the Alzheimer's Association in the US found that at least 60% of the patients suffering from dementia have the tendency to 'wander'.
Ishwar Chand, a specialist in geriatric psychology, says that there is no set pattern for patients to 'wander,' adding it t can happen at any stage of the ailment.
"In most cases, patients of memory loss do wander out from their houses at least once, if they are kept in the confines of the house by the families. But such a confinement is not advised. The problem, however, is that these patients seem physically fit to someone who finds them roaming about on the streets and are not helped out," Chand said.
Kept a well-guarded secret
A 56-year-old patient, whose family did not wish to be identified, has been suffering from dementia for over a decade now. He was among the few lucky ones to have been found by a neighbour sitting near a sidewalk on July 24, 2018, a week after he went missing from his house in south Delhi's Vasant Vihar.
The family recalls that when he was found, he had bruises on his arms, his lips were chapped and glasses missing. When he was found, he was constantly repeating the name of his native village in Uttar Pradesh and insisting that he be taken there.
Neighbours say that his illness was a well-guarded family secret until the day he left home, and his family was forced to take the help of social media to find him.
"We were told about instances of patients leaving home by the doctors. We now have an identity card, with his name and house address hung around his neck all the time, so that in case he wanders again someone would guide him home," his daughter said.
As soon as he returned home, the family instinctively pulled down all missing posts to avoid any more damage to the "family reputation".
"I know it makes us look insensitive, but our society is not very kind to mental illness. There is just one blanket term we use for any kind of ailment, and that's 'mad'. My father is healthy otherwise, and I do not want him to be seen as a mental patient," his daughter said, holding back her tears.
Even a glass of water helps
Social media websites are flooded by missing reports of memory loss patients, but the police is yet to find a way to help these people and their family members.
Deputy commissioner of police (New Delhi range) Madhur Verma, who has dealt with such cases and has successfully managed to bring several such missing elders back home, said that in most instances such patients would remember old stories but would not be able to recall recent incidents.
"For instance, we have observed that they would remember their old addresses but would not know where they presently live. Another problem is that it is not easy to identify senior citizens with memory loss on the road. They sometimes look as confident as any other person and do not know how to ask for help," Verma said.
One small initiative the department has taken is for personnel at all police stations to offer a glass of water to missing persons with memory-related disorders who are found.
"A lot of these patients have no recollection of whether they have had water. They do not even feel the urge to have water and have to be reminded to remain hydrated by their caregivers. As a matter of practice if any senior citizen is found, we offer them a glass of water," Verma said.
In 2013, Verma recalled, a missing Alzheimer's patient had been found and was waiting at a police station in south Delhi when he suddenly collapsed. It was later found that he had not had water since the day he went missing and died of dehydration.
Sunil Tripathy, an information technology engineer in Noida, remembers stories of his maternal grandfather, who had left home in 1987 and never returned. Three years later, when the family had given up all hopes of his return, they received a phone call from the Shahdara police station asking them to identify a body the police had found.It was indeed that of the missing grandfather.
"I was around 10 years old and do not clearly remember the details, but I have heard from family conversations that his body was found near a drain and my father's details were found from a little pouch he used to carry," Tripathy said.